My family enjoys drinking.  This is sort of an Irish fact, but we Briertys (my maiden name) take it very seriously.
My dad and I used to bring home strange liquers from our travels to drink together, and lately, every family gathering involves sampling craft beers from some strange new place.  A Brierty family gathering is not complete without a good serving of alcohol!
Ben and I both live in towns with great breweries, and we often frequent them with our spouses.  When we heard we would be staying in the home town of the southern-most brewery in the world, a visit there was not optional.
Still super sleep-deprived, we arrived in Ushuaia around 2 PM on Saturday.  After dropping our bags in our beautiful room and enjoying the complimentary champagne (how romantic),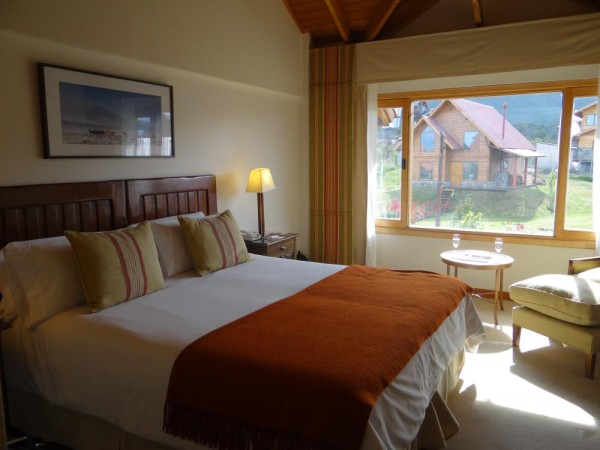 we went straight to the concierge desk to see if we could get a taxi to Cerveceria Cape Horn.  The concierge seemed amused "You like beer?".  This clearly was not a typical request!
He made some phone calls, and it turns out, the place we had heard about where you could go enjoy beer had closed down about 5-6 years ago.  Now, there is just the brewery where they brew the beer, but not a place to socialize or drink.  The concierge called the owner at home - turns out he is not the owner anymore, but he gave him the number for the new owner. 
The next phone call happened in Spanish and was too quick for my basic knowledge, but it sounded promising.  He hung up the phone and said "I talked to the owner.  The brewery is closed today, but he is on his way there for you and a taxi will be here in two minutes to get you!"  We felt terrible - we thought we were going to some brew-pub, not to a closed factory that would require an owner to come in on a weekend.  We felt rude and inconsiderate, and also had no idea what this would end up costing! 
The taxi picked us up and drove us almost 40 minutes outside of town.  This is when we realized we had no phones and could not get back to the hotel without help, since walking back would not be possible this late in the day.  The taxi dropped us off in front of an abandoned-looking home, and as I tried to get his phone number, he drove away and left us.  Crap.  This didn't look right.  It was a little house in the middle of nowhere...and no one answered when we knocked.
The panicked laughter set it.  What have we gotten ourselves into?  How long do we wait before we start trying to walk back?  This is all bad...
We waited another five minutes and then realized we were in trouble.  We started to walk to the road and a taxi happened to pass and stop.  We were about to get in, when a man came walking around the house and introduced himself as the owner!  Phew!  We got the taxi driver's number (not that it really helps without a phone) and followed Ricardo, the owner, around the backside of the house.
Here, there was a small warehouse. He seemed unsure of what to do with us, so he took us inside.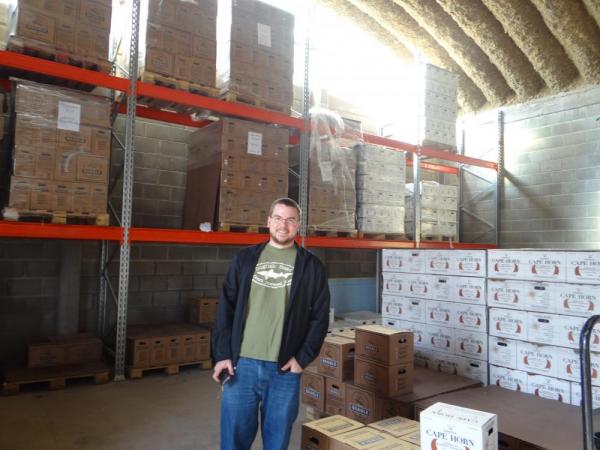 The whole thing was tiny and the interaction started off very awkward.  But then he started to show us around.  We saw the little store room for the hops and barley. We saw the tiny office.  Then, he took us to the fermenting room and things started to get interesting.  The more we talked, the more Ricardo opened up, and his pride in his beer really started to show.  He grabbed some dirty jars off of a sink and poured us glasses of beer right out of the fermenters!  It was SO good! 
After tasting those, he took us over to the little label machine and starting opening beers from the storeroom.  We stood there and drank and laughed and talked for almost an hour!  During that time, Ricardo opened one of every kind of beer (even a green one for St. Patty's Day) and we tried them all.
Then, he disappeared into his office and came out with staff shirts for us!!  Finally, he finished by loading us up with bottles to take home to our dad!
He called the taxi driver for us, and took us out to meet his dog while we waited for him to arrive.  Ben and I quickly tallied in our heads the great amount that this all would have cost in the states, as well as having the actual owner come out on a weekend to open the place up for us, and we tried to give him a tip that would cover all of it.  He refused, even after several attempts "I do not take money from friends!".  When the taxi driver arrived, he loaded us in with all of our swag and wished us well on our journey.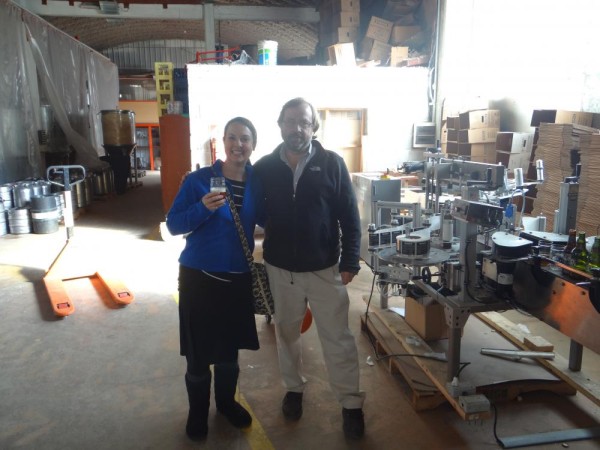 And that is how Ben and I scored a free private tour with the ownder of the southernmost brewery in the world!