Finally!  It was time to board the Sea Spirit!
We met at the park, boarded buses and were taken to the gangway.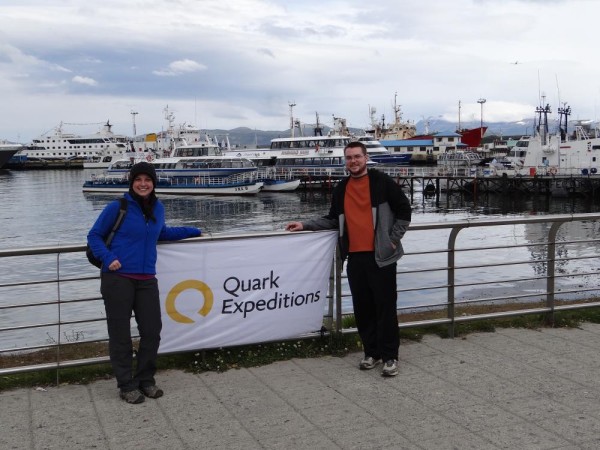 The excited crew shuffled us along as we checked in and were taken to our room.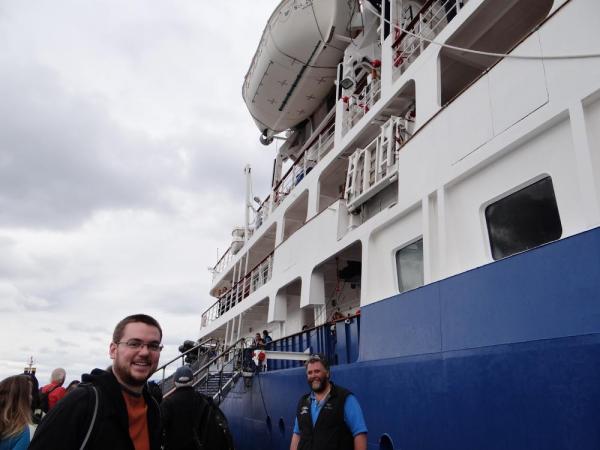 Racquel, our lovely housekeeper, gave us our tour.  We had a Deluxe Suite, and boy, was it fabulous!  We had plenty of space, a balcony, a great bathroom and even a walk-in closet (this came in handy as our dressing room!).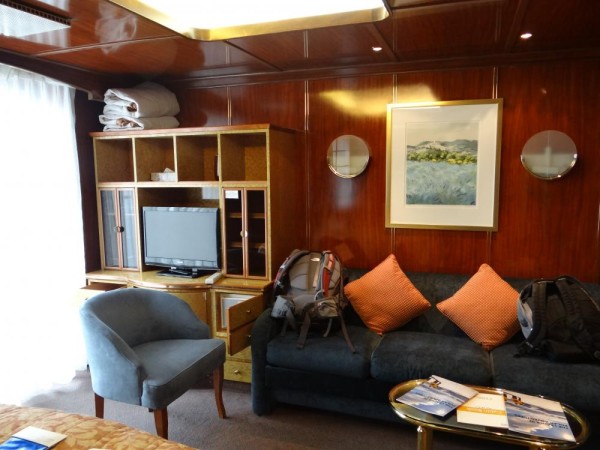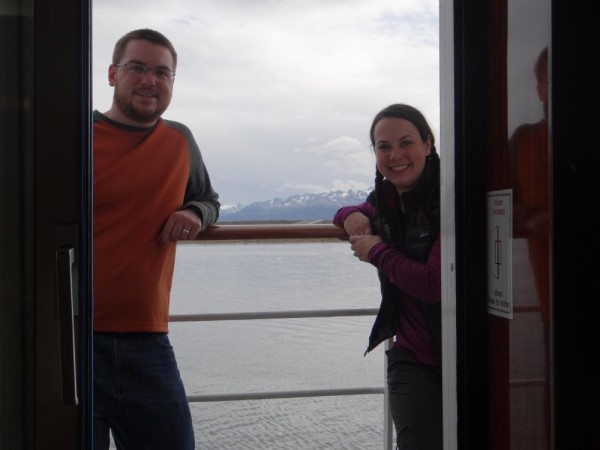 After having them split our bed into two twins rather than a queen ("...es mi hermano"  "OH! *giggle, giggle, nod*), we set out to the bar to meet our travel mates.  We had a staff introduction, a welcome drink, a safety drill, and then we set sail.  Ben and I gathered on the back deck to watch as we cast off from the pier and headed into the Beagle Channel.  Ushuaia looked even more amazing from the water, and as we moved further away, more and more mountains came into view making the picture more and more grand!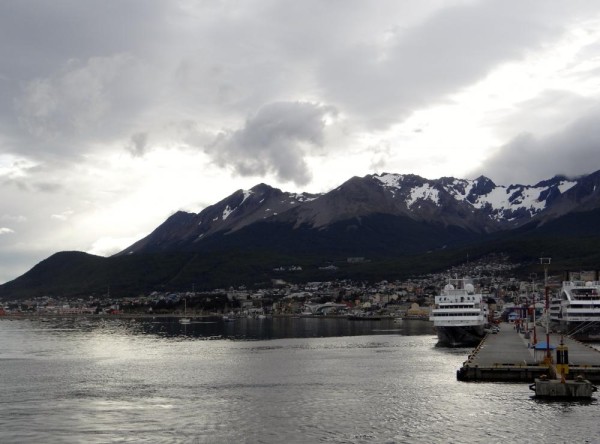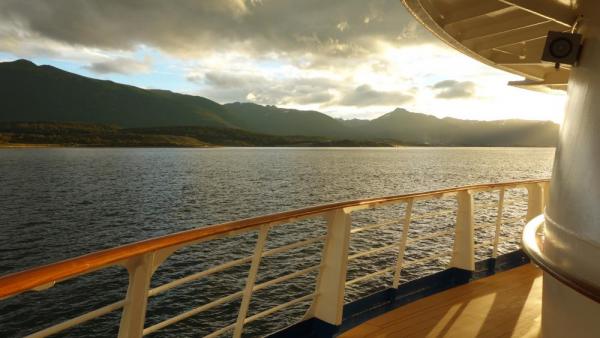 We all gathered in the dining room for our first meal on board before having a "parka party" to be fitted for our foul weather gear.  During the "party" it was announced that the forecast for the Drake was in and it would not be smooth sailing.  They warned us to take drugs and head to bed if we were wary of motion sickness.  And just like that, it looked like the "sick-bag fairy" had paid a visit to the ship.  As we left the lounge, every surface of the boat was covered in "sick bags".  They were tucked over handrails, behind paintings, on counters - you couldn't reach in any direction without being able to grab one if you needed it.
This was not a good sign of things to come!  Ben and I made sure our patches were securely in place and went back to our cabins to "drake-proof".  We stuffed towels in every crevice to hold things in place and made sure nothing could move.  By this point, I realized the patch would not be enough for me, so I popped some pills as well.  That was all it took - I was out! 
I woke up throughout the night when the rocking of the boat was enough to rock my covers off of me, and watched waves crash over our 5th floor balcony!  It was pretty amazing.  The next day, Ben enjoyed lectures of everything Antarctica (penguins, history, geology, birds, seals, whales...even one called "The Wonderful World of Krill"), and I slept.  I woke up for meals and mandatory meetings, and then I crawled back into my cocoon and rocked back to sleep.
By the afternoon, it was actually sunny and beautiful.  I sat out on our balcony for a bit and we enjoyed a barbeque out on deck.  We placed bets on when the first iceburg would be spotted and got more and more anxious for our arrival in Antarctica. 
The kayakers met and got aquianted with our gear (and quickly became the envy of everyone else on board), and excitement mounted.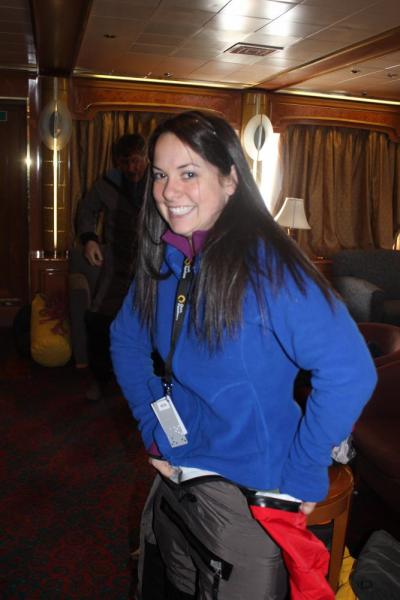 We were almost there!