I was so excited when I saw my first guanaco. It reminded me of a llama mixed with an antelope! Our guides said it was such a wild creature that so many had attempted to domesticate it and failed miserably. After two days, I realized they were like seeing a white-tailed deer at home. They were simply everywhere! Although, I was never sick of spotting them and neither was Toby. He kept telling me to take a picture of the one on the hill, the one crossing its leg, or the two chasing each other. They were so quirky and fun to watch. We saw a handful of Nandu which I was always calling an Emu…because they look JUST like an Emu. The Caracas were gorgeous, but another boring bird to the locals – like a seagull! Since I'm a hawkaholic, I was constantly snapping pictures of these majestic, scavenger birds. What surprised me the most was seeing Patagonian Flamingos! We were lucky enough to visit Magdalena Island on our way to the park from Punta Arenas.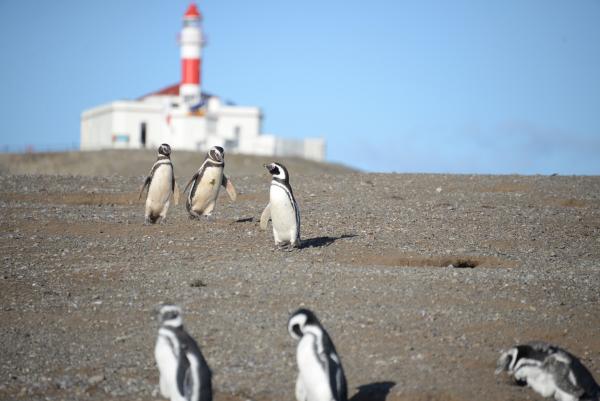 The cute Magellan penguins waddled all of the island, mostly ignoring the gawking humans. Some had become the most awkward teenagers with adult bottoms and fuzzy torsos. I came away from Magdalena on a cloud thinking of penguins. Our drive to the park revealed a bird that looked like it was from Australia – the Nandu, not Emu – and then it was as if I was in a Florida lawn when I saw those beautifully pink Flamencos Chilenos. I had Antarctica, Australia, and the US rolled into one day from a whole gamut of birds.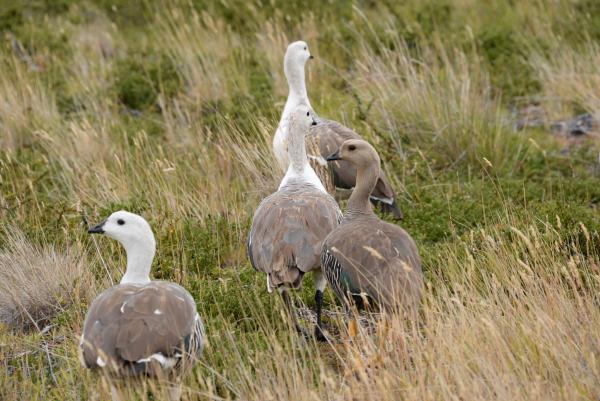 Our hike in the French Valley revealed some lovely Upland Geese, also known as Caiquen. Our wonderful guide, Pablo regaled the story of how each female goose chooses a male…or five. These males stay with her for life. If one of them dies, she simply finds a new handsome goose to add to her gaggle. But, if a female dies, all of her faithful beaux remain alone and without their beautiful brown lady love. It was the most romantic, love bird story I'd ever heard. Now, our most exciting fauna spotting came on our second day – Valentine's Day. I felt as if we'd received a box of chocolates from the park. A box of five….yes, five…puma chocolates.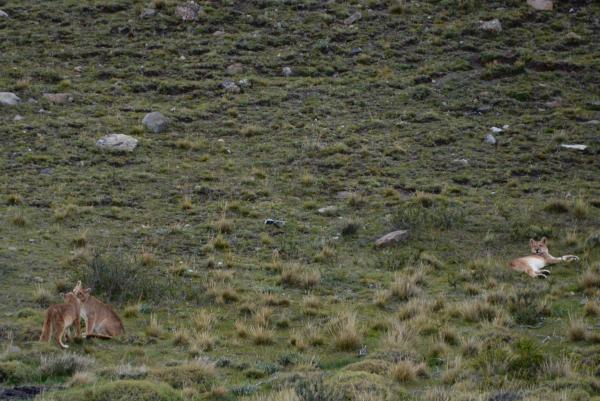 We were on our way to our dome away from home when we spotted a stopped vehicle. Anyone who's been to Yellowstone knows that this means you should stop as well and peer into the same direction they're looking and find what caught their eye. Sure enough there were five huge pumas hanging around one very dead guanaco. One was chewing on their kill, three were happily sprawled out nearby with full bellies, and the momma puma was keeping a watchful eye over her adolescent kiddos enjoying the meal she probably provided. It was amazing. Even our driver, who inched ever so closely to the pumas was incredibly excited to see these beautiful creatures. We were bouncing in our seats on the way back to EcoCamp, eager to brag to everyone else about our amazing day. One of my favorite animal "encounters" was the day we did the Big Ice Trek outside of El Calafate, Argentina.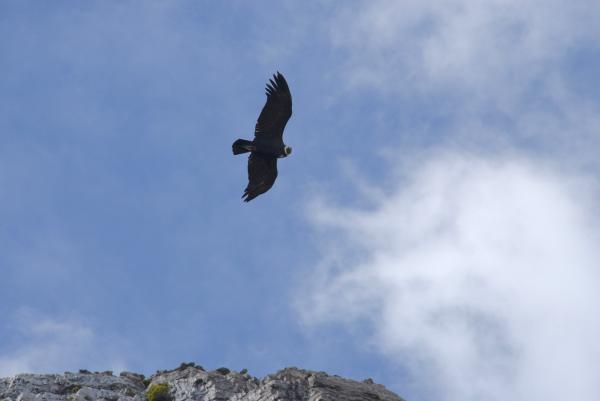 We were trekking up to the point where we began hiking on the ice and I see a huge shadow zoom over my head and onto the ground in front of me. There were wings and a head and I knew instantly a condor flew overhead. I glance up and it is SO close! This massive bird, about 9-10 foot wingspan was only about 20 feet above our heads, riding the winds. Toby and I stopped to gawk as the rest of our group continued to trek around us. You can truly see why this is called a Wildlife Safari. We were lucky to see as many animals as we did. We hope you do too!