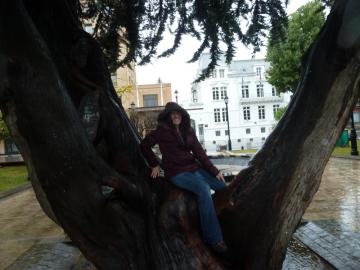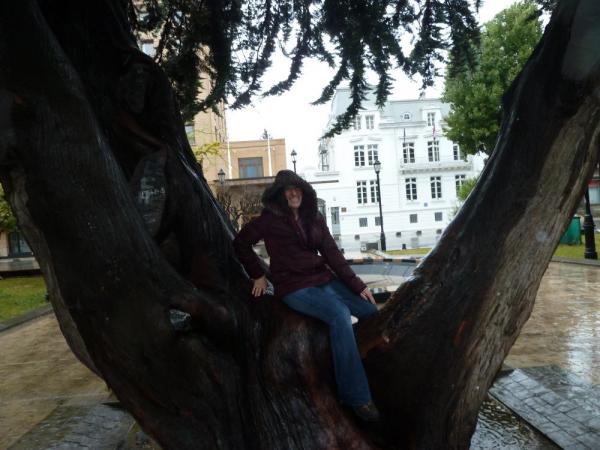 Today we were supposed to visit Magdalena Island, but the rains had come down heavily all night and the trip was not safe. Instead, our guide called to offer us another option, sea kayaking on the Straits of Magellan. We transferred 30 minutes south of Punta Arenas and were given all the gear necessary for a comfortable kayaking trip in rain and wind- wet suits, splash jackets, splash pants, etc. The kayaking guide explained that it would not be safe to kayak the Straits either since the wind had picked up, and recommended a river (ditch by our estimation) that ran parallel to the Straits. Why not? we gamely boarded our double kayak for a quick lesson and then headed upriver, fighting the fierce wind along the way. It seemed that we had been going for ages when we finally stopped making any forward progress. The guide asked if we wanted to turn back. Exhausted from the winds, we happily agreed. The downriver return trip took only a few minutes and we realized that we had not traveled more than 500 yards or so! Arrggh! Oh well, we headed back to the starting point and enjoyed some lovely tea and Patagonia cookies before heading back to Punta Arenas to meet our transfer into Torres del Paine.
It was a very good thing that we returned when we did. The streets of Punta Arenas were flooded with the worst rains in 20 years. We had to walk across a makeshift bridge to enter our hotel that had already started experiencing flooding in the basement. Along the way, we passed cars that were stranded in waters that reached above the tires in some cases.
A few minutes later, our transfer van to Torres arrived blessedly early to wisk us out of the city before the flooding got worse. Though it was still raining, the weather was less severe further inland. To break up the 5 hour transfer into the park, we stopped for a wonderful lunch in Puerto Natales and then visited the Milodon Cave, home to giant sloths and other prehistoric creatures such as the saber-toothed tiger approx 10,000 years ago.
We arrived into EcoCamp in the evening and were taken to our fantastic suite dome, complete with private bath, hot water, wood stove and electricity. It was fantastic and we settled in for a good meal and an introduction to the following days activities.