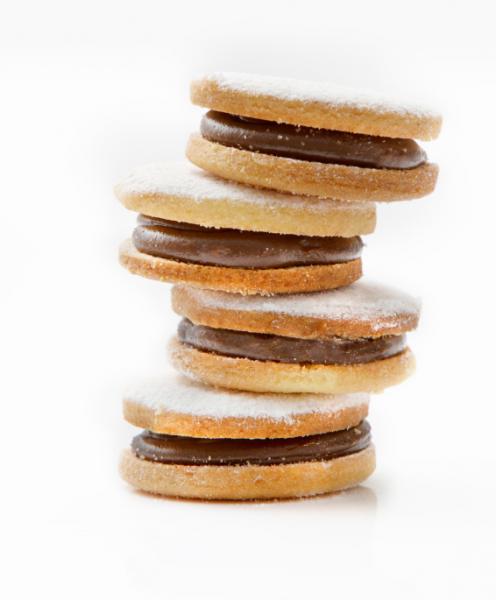 Alfajores, crispy cookie sandwiches, are enjoyed throughout Latin America. Many regions have their own local spin on these delicate sugar cookies filled with a creamy, caramel-like goodness. But the end result is always the same.
Delicioso!
Slight variations of this recipe include coconut, crushed almonds, or they can be covered in chocolate.
If you're aching to relive the local flavors you enjoyed during your
Peru tours
, here's a tried and true recipe with a Peruvian flare and Manjar Blanco filling.
The Cookie:
3/4 cup white flour
1 cup corn starch
2 tsp. baking powder
1/4 cup butter (soft, room temperature)
2 egg yolks
1/4 tablespoon vanilla
6 tablespoons powdered sugar
Manjar Blanco: The Filling
2 1/2 cups of whole milk
1/2 cup + 1 tbsp. of sugar
1/4 tsp. vanilla
Make your filling: Boil milk, sugar and vanilla in a saucepan – stirring occasionally until thick and caramel-like. Should take about 30-45 mins. You'll know when it's done when you spoon onto a plate and it does not run.
Make Cookie:
1. Mix butter, 4 tbsp. of powered sugar and vanilla in a bowl. Add egg yolks, one at a time, mixing well after each is added.
2. In separate bowl mix together flour, baking powder and corn starch.
3. Combine two mixtures to form your dough – do not over-mix.
4. Cover and let sit in cool place for 30 min. (Fridge is fine)
If you haven't already, now is a great time to make your filling.
5. Sprinkle counter surface lightly with flour to roll out the dough. When 1/4" thick, cut out about 2 1/2" circles.
6. Place on a greased cookie sheet – bake at 300 degrees for about 20 mins.
7. When completely cooled, place manjar blanco filling on half the cookies, and place the remaining half of cookies on top, making little sandwiches of goodness.
8. Sprinkle with remaining powdered sugar, eat and enjoy a little taste of
Peru travel
!
Makes 12 cookies. I recommend doubling this recipe, because trust me, you'll want more than just a dozen of these treats.
For an Argentine flavor, replace the manjar blanco filling with dulce de leche (make your own, or purchase at the store). Or add cinnamon or rum to the filling for additional flavor.