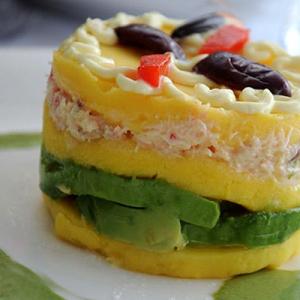 Roughly 3500 different varieties of potatoes grow in the Peruvian Andes. There is no limit to the number of dishes that these carb-rich spuds can provide, but Peru's layered dish, causa rellena, is one of my favorites. A staple in Peru for centuries, the word causa actually comes from the Quechuan word 'kausaq' which means gives life.
Causa refers to the yellow potato (papa amarilla), and rellena refers to the stuffing. Feel free to get clever with the recipe – and presentation. But try this simple and tasty Latin American comfort food for yourself…
Causa (potato)
- 8 yellow potatoes (boiled, peeled and mashed)
- 3 yellow peppers
- Juice from 3 limes
- 2 tbsp. vegetable oil
- 2 cloves of garlic
- salt and pepper to taste
Rellena (stuffing)
- ½ cup mayonnaise
- ½ chopped med. onion
- 1 tsp. mustard
- 2 hard boiled eggs (chopped)
- 1 avocado (cut into slices)
- black olives (chopped) to your preference
- For a little extra protein, add cooked chicken breast or tuna to your stuffing
Cook
1. Saute yellow peppers and garlic in vegetable oil until soft. Place in blender with mashed potatoes, lime juice and salt and pepper. Process until smooth.
2. Mix all stuffing ingredients (mayonnaise, onion, mustard, boiled eggs, avocado, olives and optional chicken/tuna) in a bowl. Season with salt and pepper to taste
3. To serve, shape ½ potato mixture into a square on a plate. Spoon stuffing mixture over potatoes, and layer the remaining potato mixture on top. Eat!