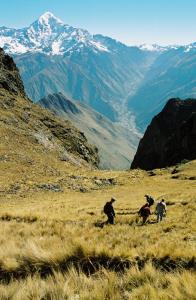 With Inca Trail passes filling up 3 months in advance (sometimes even faster during peak travel months) the last-minute Peru trekker can find themselves wondering what their options are when there's not a trail pass to be found. Well, don't fret, there are alternatives, and I am pleased to say they are excellent.
Salcantay
If you want to stay within the same region as the
Classic Inca Trail
, consider the Salcantay trek.
National Geographic Adventure
did a feature on the Salcantay a few years ago called "Trekking to Macchu Picchu (The Cool Way)" -- and frankly, it's pretty cool. But the reason it's not as popular as the Classic Inca Trail is the Salcantay does not hike directly into Machu Picchu. This is a big deal for some folks -- and rightfully so; when you hike those steps up to the sun gate to over look Machu Picchu after 4 days of trekking through the Andes... it's truly special.
There are actually options that combine the two; after about 4 days on the Salcantay, you can join up with the classic Inca Trail near the community of Huayabamba and finish the remainder of the trail into Machu Picchu. Equates to about 7 days of Andes trekking.
Keep in mind, the Inca built a road system stretching along the coast from Ecuador and into Chile and Argentina – an estimated 25,000 kilometers of roads. To put is simply there is lots and lots and lots of "Inca Trail" throughout the region.
Is one trek better than the other? Well -- the Salcantay is more secluded, and less developed than the classic trail, but the environment/scenery is very similar since both treks are in the same region.
Highest elevation you'll reach in Salcantay is 15,252 feet -- Inca Trail 13,776 ft.
7D/6N trek: Total Distance: ~ 45 miles
Highest Altitude: 15,252 ft.
Cachiccata Trek
I also highly recommend the Cachiccata Trek. This cultural 4 day/3 night trek includes a visit to the Inca temples of Chokekillka and Intiwatana. It also visits local Peruvian communities. It's an easier, shorter option with hiking at lower altitudes. Rather than hike into Machu Picchu, you'll take the train at the end of this trek into the ruins. This is a more secluded and less-traversed trail – I'd be surprised if you ran into another traveler outside of your group.
Total Distance: 12. 5 miles
Highest Altitude: 12,500 ft.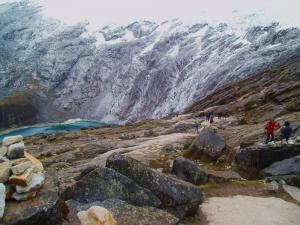 If Machu Picchu is not a must on your list (or you are one of those lucky travelers who has 2 to 3 weeks to travel throughout Peru), there are some great option outside of the Sacred Valley region. The Cordillera Blanca (in the north) and the Ausangate (in the south) circuits offer some of the Andes most celebrated treks by hikers around the world.
Cordillera Blanca
One of Peru's most sought after treks is the Cordillera Blanca. Compacted into a fairly small area, this region has more than 50 peaks 18,700 ft or higher, including Huascaran, Peru's premier mountain.
Total Distance 38.0 miles
Highest Altitude: 15,620 ft.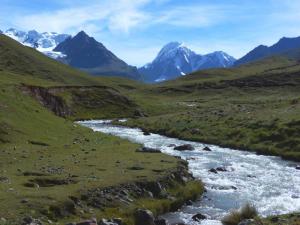 Ausangate
Ausangate mountain is arguably the most sacred mountain in Peru. Range is in the southern part of Peru and is close enough to Cusco if you are interested in spending time in the colonial city -- but the range is very remote and away from the bustle. This Andean trek begins at the river Ocongate and onto the puna (high grasslands) towards Mount Ausangate. The highest point on this 7D/6N trek is Palomani Pass, ascending to 16,564 ft.
Total Distance: 47.5 miles
Highest Altitude: 16,564 ft.