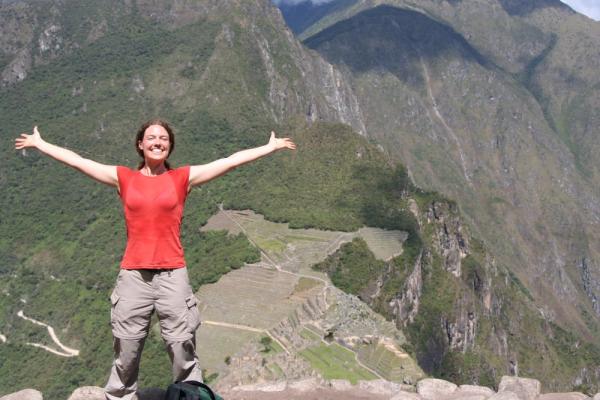 Hiking the
ruins of Machu Picchu
itself can be enough for some travelers. But there are some amazing peaks to trek while at the ruins -- and offer a rare perspective to the legendary Inca ruins. The catch? There's a fee, and you'll want to do a little planning in advance to save your spot. Here are some helpful details.
Huayna Picchu
Huayna Picchu or Wayna Picchu (Young Peak) is that iconic peak you see behind Machu Picchu in all of the postcards. Hikers start in the morning at Sacred Rock and pass through a gate that is open 7:00AM to 1:00PM. The hike is a 1-2 hour steep hike on a well-established trail, but the last 65 feet (20 meters) is a steep rock slab that is climbed with a ladder and a rope. Take care when the weather is wet, as it can be slippery. The summit provides a great view of the ruins as they spread out below you. Only 400 people are permitted on this hike per day, so if Huayna Picchu is on your to-do list, I highly recommend purchasing the $10 per person admission with us ahead of time.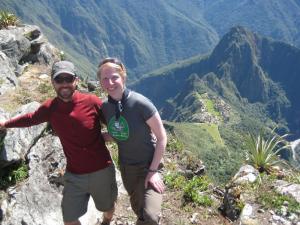 Machu Picchu Mountain
Another hiking alternative is Machu Picchu Mountain (Old Peak), which is the higher peak towering above the ruins opposite Huayna Picchu. This is a lesser known, 2-3 hour hike up, sometimes steep, stone steps through the forested mountainside. The summit provides a truly bird's eye view of the ruins and breathtaking views of the surrounding mountains. The last start time is 2:00PM. This hike is $5 per person; we can also help travelers purchase these ahead of time, but there is no limit.
The hike up to the Sun Gate is free and provides a priceless view of the ruins.
It should be noted that Machu Picchu itself has daily restrictions on the number of visitors allowed into the site. The number is capped at 2500 visitors a day. Daily passes into the ruins are $55. It is also recommended to purchase these tickets in advance, especially if you are planning your
Peru trip
during busy season or during an important festival, such as
Inti Raymi
. During this past July's 100th Anniversary celebrations, the site met capacity a number of days.