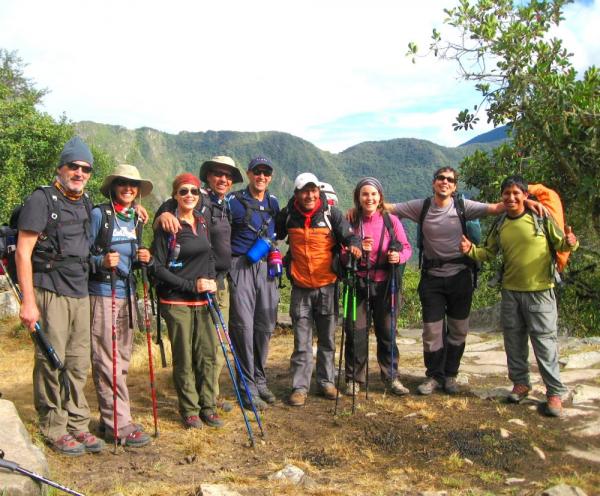 On Peru's
classic Inca Trail tour
, travelers hike in altitudes ranging from ~ 9,000-14,500 ft. The highest campsite is ~ 12,000 ft.
Altitude affects people differently and until you have visited an area with high altitude, it is impossible to predict how your body will react. Hiking trips should include at least 3 days at high altitude with mild activities before you begin your trek. This time allows your body to begin acclimatizing and provides a good indication of how you'll feel on the Inca Trail. (Altitude symptoms are generally the worst on the first day or two at elevation. At about 11,000 feet, Cusco is considered a high-altitude city. If you're feeling fine in Cusco while on a
Peru tour
, chances are very good that you'll feel fine on the trail.) Commonly, travelers report mild altitude symptoms such as fatigue, headache, or light-headedness during their first day or two at elevation. Hotels and our porters on the Inca Trail have oxygen available for travelers feeling the effects of the elevation.
The simple fact is, the higher you go above sea level, the thinner the oxygen in your blood becomes. By 10,000 feet oxygen levels have gone from roughly 98% saturation to 89%. This catches many travelers off-guard; young, old, man, woman, fit or not — anyone is potentially at risk. The good news is that the majority of those who experience altitude sickness find it relatively mild and limiting — NOT debilitating.
Severe altitude sickness is rare. In this case, the best treatment is to go down in elevation as soon as possible. Many severe cases of altitude sickness are the result of a pre-existing condition that is aggravated by the altitude. Or if you've had problems with altitude in the past, you'll likely have it again. It is important to ask your doctor whether or not travel to high altitude is advised, especially if you have a pre-existing heart or lung condition such as high blood pressure, asthma, angina, etc. You might also want to ask your doctor about prescription Diamox, a diuretic that many swear by to help them adjust to the altitude more readily. I've used it. I'm a fan.
And stay hydrated - drink water. Because there is less oxygen in the atmosphere, you and your lungs will naturally work harder to get what you need. Combine that with exertion and sweating from trekking and you've potentially created the perfect recipe for dehydration. Don't be afraid of the altitude on an
Inca Trail trek
, but don't disregard it either.