Best Time to Visit Machu Picchu - A Comprehensive Guide
Understanding the best time to visit Machu Picchu may prove to be a challenge for some. To assist you in making the optimal choice, we have crafted this comprehensive guide that delves into the region's weather, seasons, and temperatures. Keep in mind that regardless of the time of year you choose to visit, you will undoubtedly be awe-struck by the citadel's splendor and the magnificent landscapes at every step of your journey. Machu Picchu, the ancient Incan citadel nestled amidst the towering Andes Mountains, stands as a testament to both human ingenuity and natural beauty. Each year, countless adventurers embark on a pilgrimage to this remarkable site, seeking to immerse themselves in its rich history and breathtaking vistas. To ensure that you experience Machu Picchu at its finest, it is crucial to select the best time to visit. In this guide, we will explore the different seasons, provide a detailed temperature table, offer a suggested packing list, and share additional weather-related insights that will enhance your journey to this iconic destination.
Seasons at Machu Picchu
Machu Picchu's climate is influenced by its unique location in the Peruvian Andes. The region experiences two distinct seasons: the dry season (April to October) and the wet season (November to March). Each season presents its own set of advantages and considerations for visitors.
Dry Season (April to October):
This is widely regarded as the best time to visit Machu Picchu due to the clear skies, minimal rainfall, and comfortable temperatures.
The months of June to August constitute the peak tourist season, with July being the busiest month. Make sure to book accommodations and entrance tickets well in advance during this period.
Daytime temperatures range from 65°F to 77°F (18°C to 25°C), while nighttime temperatures can drop to around 50°F (10°C).
Wet Season (November to March):
Despite the increased rainfall, the wet season offers lush green landscapes and fewer crowds. The vibrant foliage and misty atmosphere can add a unique charm to your Machu Picchu experience.
Be prepared for occasional heavy rainfall, especially in January and February, which are the wettest months.
Daytime temperatures average around 68°F (20°C), while nighttime temperatures hover around 54°F (12°C).
Exploring Machu Picchu during a Peru trip




Machu Picchu's Temperature
Here's a comprehensive temperature table for Machu Picchu, outlining average high and low temperatures in Fahrenheit and Celsius for each month:
| | | |
| --- | --- | --- |
| Month | High °F (°C) | Low °F (°C) |
| January | 68 (20) | 54 (12) |
| February | 68 (20) | 54 (12) |
| March | 68 (20) | 54 (12) |
| April | 68 (20) | 54 (12) |
| May | 68 (20) | 52 (11) |
| June | 70 (21) | 50 (10) |
| July | 70 (21) | 50 (10) |
| August | 70 (21) | 50 (10) |
| September | 70 (21) | 50 (10) |
| October | 70 (21) | 52 (11) |
| November | 68 (20) | 54 (12) |
| December | 68 (20) | 54 (12) |
Suggested Packing List
Packing for your Machu Picchu adventure requires careful consideration of the varying weather conditions. Here's a suggested packing list to ensure you're well-prepared:
Lightweight, moisture-wicking clothing
Layered clothing for temperature fluctuations
Waterproof and breathable rain jacket
Sturdy hiking shoes with good traction
Sunscreen, sunglasses, and a wide-brimmed hat
Insect repellent
Daypack for carrying essentials
Reusable water bottle and snacks
Camera and binoculars for capturing stunning views
Personal medications and a basic first-aid kit
Machu Picchu Opening Hours
Machu Picchu opens daily from 6 am to 5:30 pm. However, the Inca Trail, the renowned trekking route to Machu Picchu before or after your visit to Machu picchu, undergoes essential maintenance every year, during the month of February, the wettest of the year in this region. This dedicated maintenance effort plays a vital role in preserving the historical significance of the trail, ensuring that its allure can be experienced by generations of future visitors.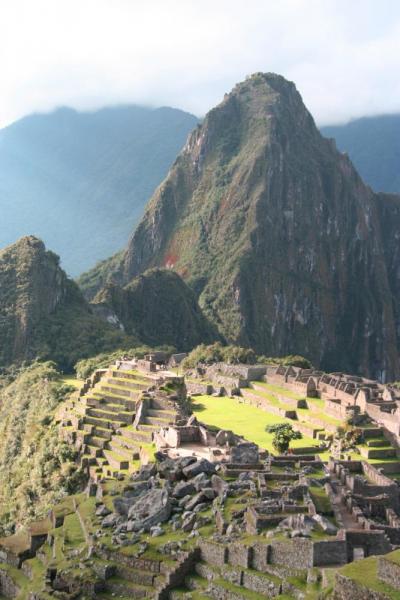 Weather-Related Insights:
Altitude: Machu Picchu is situated at an elevation of approximately 7,970 feet (2,430 meters). Visitors should be aware of the potential effects of high altitude and take necessary precautions to acclimatize gradually.
Microclimates: Machu Picchu's diverse topography leads to microclimates within the site itself. Be prepared for temperature and weather changes as you explore different areas.
Sunrise and Sunset: Witnessing the sunrise over Machu Picchu is a magical experience. Consider booking tickets for the early morning entrance to catch the first rays of light illuminating the ancient ruins.
Occasional showers: From May to October, the weather is typically clear and dry, making it an excellent time for exploration. However, nights can be quite cool, so packing layered clothing is advisable. It's worth noting that the Amazon Rainforest is just 100 kilometers away from Machu Picchu, so while you may enjoy dry weather at the citadel, having rain gear handy is a good idea.
Festival of the Sun (Inti Raymi): Local residents often partake in the Festival of the Sun at the end of June, adding a cultural dimension to the Machu Picchu experience. This traditional celebration brings an atmosphere of festivity to the site and offers a chance to connect with the region's rich heritage
Choosing the best time to visit Machu Picchu is a crucial decision that can significantly impact your experience. Whether you prefer clear skies and moderate crowds during the dry season or the lush greenery and fewer tourists in the wet season, planning your trip around the weather conditions can enhance your journey to this remarkable destination. By following our comprehensive guide, you'll be well-equipped to make the most of your visit to the awe-inspiring Incan citadel.