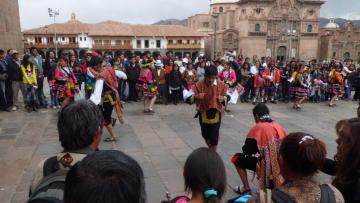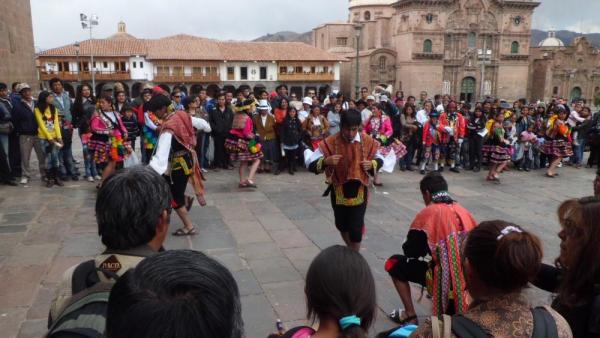 Jan was ill at breakfast. Mick stays home with her. Jo and I boarded the bus and headed to one of the 7 wonders. At 10am, I began my Huana Picchu hike. I started off fast and then slowed to take it all in. Up and down at first and then up, up, up. I peaked back at my dream and it came into sight. Cables aided my climb. I stopped for 100second breathers to recover. The rocks formed stairs (not to OSHA standard I am sure). High slope on some and lower on others. No handrails. No guides along the way. No signed agreements to not sue. After all-this was Peru and not Etas Unidos. I did good. I looked back and a very fit man came by me. Very fit. Did I mention how fit. He had a small baby, about 6 months, on his back. I blinked several times and my brain clarified it was in fact a baby. It was not the altitude. Oh well. I stayed behind him for the remainder of the climb. I got to the first terrace that faces MP and just stood in awe. Snapped a few photos, then turned to find a way to the top. Only 45 minutes had passed.
I looked up and found a small path on a rock, but decided the other way looked safer. I went back down and all the way around. I made it to the top and see the back side of the mountin. Amazing.
I started down and used my hands alot, just as I had on my way up. I went very fast and my muscles got shaky. I made my way to the exit. There are two girls ahead of me. I sign out and realized they are in the 7am group. I was one of the first to sign out for the 10am group. I exited and Jo snapped a picutre of me. He was surprised by my quick turnaround.
We head out to the get water. It takes about 20 minutes to get out. We saw 2 German girlst in one of the fountains. Yes! In the fountain at Machu Picchu. My eyes were big. They had a small packed of maybe soap in hand and were about to wash off?? On of the 7 wonders and 2 chicks were about to freshedn up in the some of the most sacred water that has been running since the 1400 or 1500s.
The fountains were an amazing civil marvel in that the Incas used pressure topump the water. They would use an in flow hole and size change to boost pressure and pump water if needed.
We made it to the exit and grabbed a drink and snack. Best chicken wrap I had ever eaten. We get off the bus one last time and bid farewell to MP. We trudged up the hill and found Mick at a restaurant. We grabbed a quick bite. A celebratory drink to Pacha mama and some quinoa for me.
We rested for only a short minute and decided to walk around ACalientes. We visited the soccer field, where everyone ws active, and take in the small Andean destination where tourists invade the simple life.
We left a little early to shop in the market near the train station. We arrive Ollantaytambo around 8pm. We board a small bus and head to Cusco, via Urabamba, Chinchero, and others. We arrive Taypikala around 10pm.