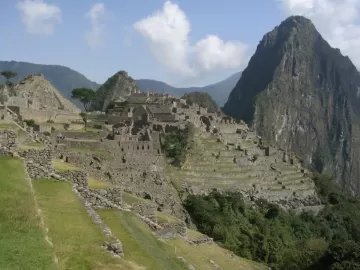 We grab a quick breakfast of typical (yet interesting) Andean food. Almost as interesting as the egg/pickle sandwich I had on the plane. We arrive Cusco early morning. We are taken to our hotel for a short rest before heading out. Our hotel greets us with coca tea.
We head to Plaza de Armas just after noon. It is a great square with many people. A place where old meets new and the local ladies having a thriving business. Little girls and ladies carry small sheep or Alpaca around and ask if we want our pictures made with them. We eventually give in.
We visit the Cathedral and we get the long tour. The "birgins" adorn every wall. And Earthquake Jesus is a great story.
We grab an indescribably delicious lunch at Cicciolina. Duck proscuitto for me. Trout Ceviche for Jo. Cusquena for all. The local beer is great.
We walk around the square indifferent direction. A young girl about 13 comes up and speaks flawless English. She explains the had is "rebirsible". I compliment her on her English and asked her how she learned it so well. In school of course. I ask her to come to dinner with us and she laughs, moving on to her next sell.
Supper at on the square at El Trukala (sp). Pisco sour is delicious. Alpaca. Traditional dancing.