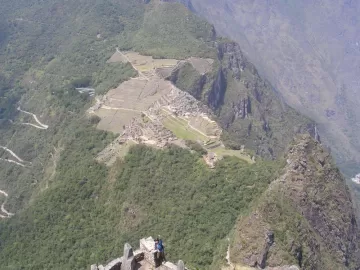 We head to Pisac for our first stop after driving by "Sexy Woman" or Sacsayhuaman. We stop at a place to feed Llama, Vicanya, Guanaco, Alpaca.
The small towns are piece mill and not like where we live. Many people are working steadily in the fields. Women carry a load on their back or a child on their back everywhere we visit.
We lan at Pisac ruins for a quick tour. We go through the soldiers baracks, where the door was sized 2x2 for quick exit. We wee terraces and room layouts and fountains. The market at Pisac is lined with tent after tent, creating a maze. A small girl, about 3 or 4 carries a baby animal for "foto." She can barely carey the animal.
We eat lunch in Yucay at an outdoor restaurant. Geranium "bushes" grow mightily along the sidewalk.
We head to Moray to see the "laboratory." Mor is Quechua for hole and Ray for deep. The Moray ruins were the "lavratory" as our guide says. The craters were made by meteors and used by the Incas to slowly create stronger seeds. The craters allowed little wind and milder temperatures. They also controlled water with underground ducts. The wind up top was ripping. About 500 feet below, our guide says the temp is 5 degrees less. The roads were gravel all the way in. Each field has another Peruvian hard at work.
We head to the salt mines next. We look over the cliff from the top of a mountain and see 100s of salt boxes or mines. Approximately 15cm in depth, the locals take the top layer of salt off for export. The bottom is used to mix with cattle feed. The folks in the area develeoped goiters until the realized they needed Iodine in their diet, which they got from a local plant call maliaviso (sp). The "pools" of salt below were about 1/4 to 1/2 acre. They shovel salt and brint it all out by hand (in bags). Animals can't enter.
On the route, our guide showed us the Agava cactus and talked about its many uses. The fibers can be used to make rope (and dental floss as demonstrated), needles to sew with, and the nectar has many uses. And, who could leave out tequilla.
We arrived Ollantaytambo around 5pm. The heart of the city was quite charming. Water flowing constantly through the original Inca channels. I could hear it out of my window as I quickly jotted down notes from the day. The hostal we were in was called El Sauce and was quite charming. We ate at The Blue Puppy. It was a few blocks up the street down from their very own Plaza de Armas. We enjoyed the lively place and the Germans next to us. Our guide knew the entire crew at the restaurant. Tomorrow----Machu Picchu.