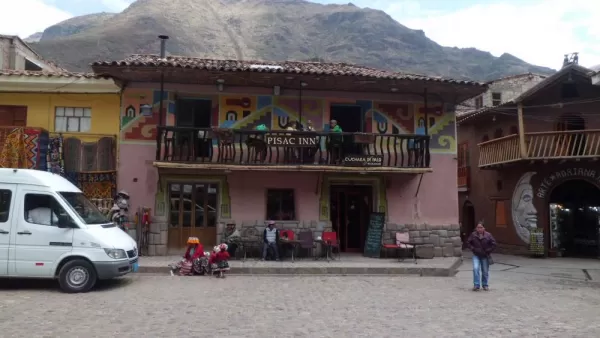 We learned so much.
What it means to be Peruvian.
What a soles will buy you (a trip to the bathroom).
What 3 soles will buy (an empanada).
What 8 soles will buy (a sandwhich in an authentic restuarant).
What 750 soles will buy (a modest 2 bedroom apartment).
Incas had many symbols (snake, puma, condor).
Opposing snakes meant no men when above a door. Facing snakes meant mean allowed.
The symbol of Pacha Mama (A never ending circle).
We ate cuy, ceviche, cucheros, and alpaca.
We drank pisco and cusquena.
We saw Machu Picchu! We experienced Peru.
Cusco:
Stay near Plaza de Armas.
Eat at the restaurant (or one like it) across from Santo Domingo.
Go to Norton Rat's pub and overlook the plaza.
Visit the ruins and Santo Domingo.
For the love, by something from one of the women!
1.5-2 days is plenty.
Ollantaytambo:
Stay near the ruins.
Enjoy the running water the Incas left for you.
Spend more than a few hours here.
Visit the ruins and see the on/off fountain.
Aguas Calientes:
Skip the bathes.
Hike the trail.
Eat near the RR tracks and enjoy the live band.
Cheers to Pacha mama.
Shop the market.
Take the train out around 4 to prevent a late night.
Enjoy the playful atmosphere.
Machu Picchu:
Hike Huana Picchu.
Take a guide with you.
Take a map.
Don't think you have to have 2 full days. You will be tired.
Remember you are standing on a 7th wonder.