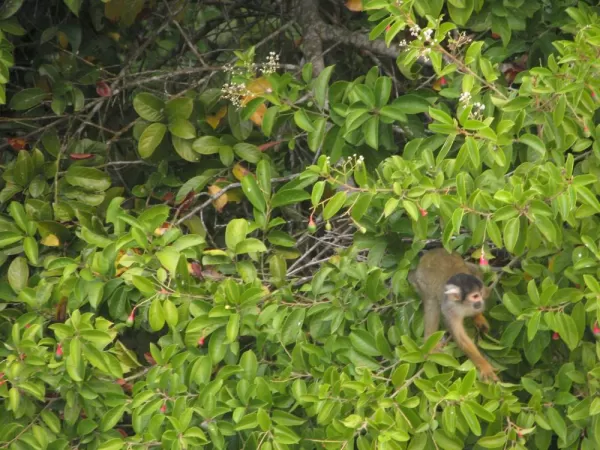 One of the (many) benefits we've found in traveling with a private guide is the flexibility of changing plans to better accommodate our interests and schedule. Cory and I were supposed to spend the day hiking and then take an early evening train that would deliver us to Aguas Calientes, the town at the foot of Machu Picchu, around 8pm. However, months and months ago we had asked the Adventure Life staff to recommend one hotel upgrade – and without hesitation they suggested the night before touring Machu Picchu. And so Cory and I have splurged on one night at the Inkaterra (something I'm very much looking forward to after a few days of camping) and we want to spend every possible moment there.
This means that our plans for the hike are scrapped, but Juan suggests a morning activity that works even better – the Cola da Mono zip line! Like white water rafting, zip lining is something that I've always wanted to experience but have never had the opportunity to try, and we weren't disappointed. The experience was made even more memorable once Edgar (our driver) decided that he wanted to join us! So after a brief hike, the three of us were led through a 6-cable, 2-hour guided tour that had us gliding over rivers and zipping down through the Andes. After all his hard work driving us around the mountains, I was glad to see Edgar enjoying himself and sharing in the excitement of our trip. However, all this bonding made it that much harder to say goodbye to him and Aurelio after lunch. But if we want to arrive at Inkaterra by late afternoon, it means that we have to literally walk the train tracks with Juan…a journey that takes a little over two hours. Cory carries our consolidated backpack the entire way and I am so proud of my new husband, even though I know his back must have been killing him by the time we arrived.
It is all worth it, however, when we open the door to our bungalow. I've done my fair share of traveling over the years, but Inkaterra is one of the nicest places I've ever stayed in my life. The warm shower and soft bed is a welcome reprieve from the adventures of the last several days, and our three course dinner – which was included with our reservation – is some of the best food I've had in my life, never mind this trip. And so for one evening Cory and I relax, allow ourselves to be pampered and take full advantages of the hotel's amenities. When we return to our room that night we find a plate of truffles for "the newlyweds" from Juan. It truly is delightful, the connections we are making here.