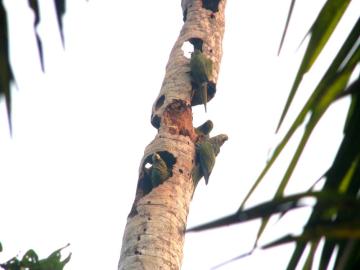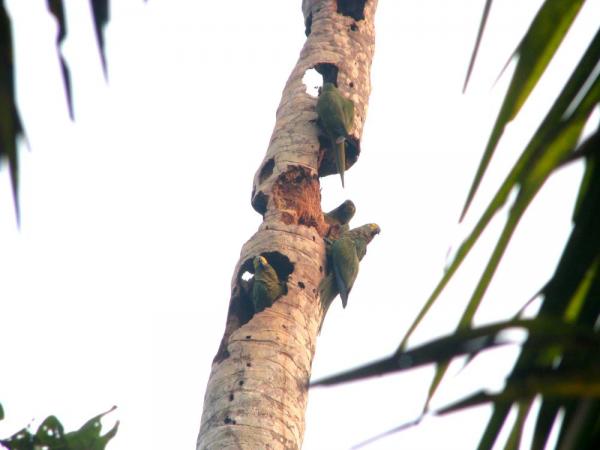 Javier is the name of our new guide, and he picks us up at the hotel early in the morning. He's our youngest yet, and says "yes, of course" in answer to most questions. He's funny and fiercely proud of Lake Titicaca and tells us stories about growing up as a boy living on the island. I admire his ambition, his dedication to his tourism studies and desire to learn two more languages in addition to his English and Spanish.
Before we get on our boat, Cory and I carefully select some gifts for our hosts – pasta, sardines and tuna fish – things that are difficult to get on the island. And even though we've been on this tour for nearly two weeks, when we board our boat I'm still surprised to see that we have the whole thing to ourselves. Javier tells us that our captain is the oldest in the city, and I love watching the joy in his face as he works with his daughter to prep everything we need for our journey. Shortly after we set out, he climbs to the roof to make an offering of cocoa leaves to the Lake, asking for safe passage and no mechanical troubles.
The floating islands are just as beautiful as I imagined, and walking on them reminds me of jumping on my parents' water bed when I was young. We spend some time with the locals and tour around on a reed boat before heading off for our main activity of the day: kayaking.
Cory and I have only kayaked once before – on a lake off the coast of Vancouver. Our Canadian instructor was kind of intense, and we hope that Javier takes some pity on us. Turns out that Javier LOVES to kayak, and he makes sure to get out on the lake even on days where he isn't leading tourists. We find that this is both a good and a bad thing because while we are mostly left unsupervised, Cory and I have to paddle an especially long and fast distance to catch up to him! Our hard works pays off later, when we learn that only about 30% of Javier's last kayaking class completed the same route the week before. We are exceedingly proud.
The Uros Islands is another part of the trip that Cory has been looking forward to. A home stay veteran, he spent several weeks with host families in Costa Rica a few years ago. I'm a bit more apprehensive and don't quite know what to expect, but my nerves calm significantly when we arrive. With the exception of a small UCLA documentary film team, we are the only visitors on the island. Our hut looks like it comes directly from the Smurf Village and after a late lunch, Cory and I relax and make ourselves at home.
Like many of the places we've visited, our island only has intermittent electricity. (That would go off for good sometime during dinner). But unlike the other areas, it also has no running water - at least not today. I'm glad that we've brought plenty of extra for tooth brushing and face washing and after we freshen up, Cory and I join Javier for a hike to watch the sun set. So beautiful.
Not to sound too much like Winnie the Pooh, but shortly after the sun sets I start to feel a rumbly in my tumbly. The sensation spreads quickly, and I resign myself to the fact that I've likely contracted some sort of stomach virus. I spend the rest of the night lying in bed, throwing up and unable to sleep. Pooh.