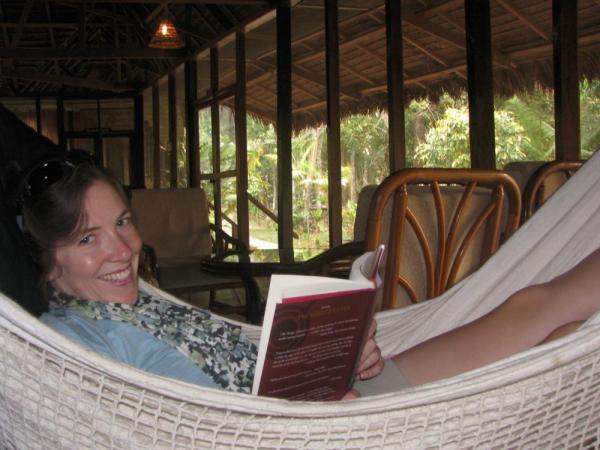 We have no plans for our day in Lima other than trying to find the Museum of the Spanish Inquisition and sample some chifa in Chinatown. And although Cory is skeptical, I am confident that we can accomplish both missions with ease and without a guide or guidebook. And to his surprise, we do. The city is crowded with students because schools spend every Friday visiting museums, but it's fun to see all the little ones in their different uniforms. In fact, we're pretty popular with the kids at the Spanish Inquisition Museum because for a while we're the only English-speaking visitors. We take lots of pictures with them waving enthusiastically in the background.
Before taking a cab back to the airport, Cory and I find a park and order some coffee. I've been thinking a lot about something that someone said to me back at the Sandoval Lake Lodge, on a night that seems like it was a million years ago. "I can't believe you're here on your honeymoon," this woman from Nevada said to me. "I think this would be a terrible trip for something like that." I disagree, obviously, but now that we're about to go home my opinion has grown even stronger. I think this is EXACTLY the kind of trip that makes for a good kick-off to marriage. Touring Peru enabled us to see new things together, take care of each other, to problem solve and work as a team. I love Cory and want to spend the rest of our lives doing exactly these things. This trip was literally the perfect start.
But that does not mean that I'm not ready to go back to New York for a little while. Our coffee finished, Cory and I give Peru one last long look before starting the journey home.