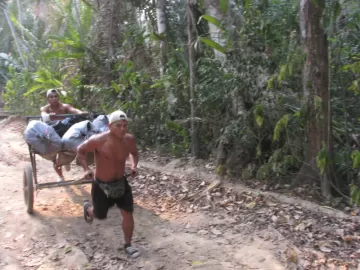 We've been at the Lodge less than 24 hours and already we feel like pros. The routine is easy to master: pre-dawn outing, breakfast, free time, late morning outing, lunch, more free time, evening outing and dinner. It's a bit like summer camp for grown-ups, and our favorite time of day is right after lunch when we can cozy up on the hammocks to read and watch the lake. Heaven. We periodically turn to each other to say things like "if we were at home right now we'd just be getting on a crowded subway." But it's so much more pleasant to sip our drinks and watch the birds fly by.
Our outings have been spectacular and feel incredibly indulgent, since it's just Cory and I and Paulina. This morning we woke at 5am for our private catamaran tour of the lake. Saul paddled us around the lake, while Paulina pointed out the different species of birds and monkeys (yay!) and caimans. We were back on the lake in the evening to watch the sunset, true honeymoon style. On our way back to shore, we "hunted" caimans with our flashlights – if we caught them in the beam of light their eyes would glow an eerie red that reminded me of the Disney Peter Pan movie. Bats were also flying all around us and instead of finding the experience unsettling, I just marveled at all the different species of wildlife co-existing on the lake.
Nature is really putting on a show for us, and Cory and I are so lucky to be able to see it.