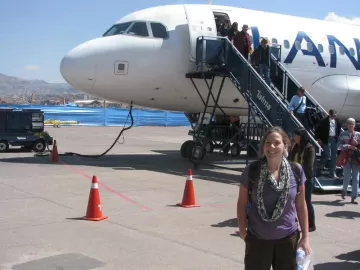 Booking the "Amazon Extension" was a spur-of-the-moment decision primarily motivated by our shared desire to see monkeys in the wild. (Honestly. And whenever we'd mention our trip, people would ask about the monkeys. I think it's a universal fascination.) I'd never been to a rainforest before, so about six weeks before we left I booked us an appointment with a passport health representative to prepare for every contingency – malaria pills, yellow fever vaccines, heavy duty sunscreen and bug spray. But when we finally arrive at the Sandoval Lake Lodge, all of these precautions take a back seat to the breathtakingly beautiful scenery and tranquility of the lake and surrounding area. We are assigned a room in Wing A, and when we open the door we find that our towels have been laid out on our bed in the shape of a heart. The honeymoon has officially begun.
But let me back up a minute. Whoever came up with the phrase "getting there is half the fun" must have been talking about the journey to the Sandoval Lake Lodge. The process begins at dawn in Lima, as Cory and I wake to catch an early flight to Cusco, followed an hour or so later by a connecting flight to Puerto Maldonado. At the airport we are picked up by Paulina, our young, enthusiastic tour guide, and driven to the lodge's offsite office, where we were asked to quickly re-pack our backpacks. (Note to travelers considering this type of trip: pack your stuff so that you can condense it quickly…there were a few times on the trip where we had to re-pack or go down to one backpack. It's not a big deal, just something to keep in mind.) From the office we drive to the shore, where a motorized boat is waiting to take us (and 20 other tourists from Australia and New Zealand) to the lake. There Cory and I are given our first taste of Sandoval Lake cuisine – a delicious rice and tofu stir fry to-go, carefully wrapped in a banana leaf. The presentation pleases me so much I can't help taking a picture of it. I'm already in love with this vacation, if only for the fact that everything about it is different from my life in New York.
We hit land about 45 minutes later. After applying a thick layer of bug spray, Cory, Paulina and I begin a nearly hour-long hike where we are required to step off the path at various intervals as boys – pushing carts carrying our luggage, food and other supplies – run furiously by. (The stamina of the Sandoval staff is impressive!) Canoes are waiting for us as we reach the water, and not long after we set off Paulina points to some ripples and speculates that an anaconda must have been nearby. Cory spends the rest of our stay making Indiana Jones references: "Snakes? Why did it have to be snakes?"
The weather is the biggest surprise. Although I know winter is winding down in South America, I'm surprised to find the Amazon so temperate. NYC is experiencing its hottest summer on record, and we are thrilled to find that the rainforest offers a surprising reprieve from the humidity.