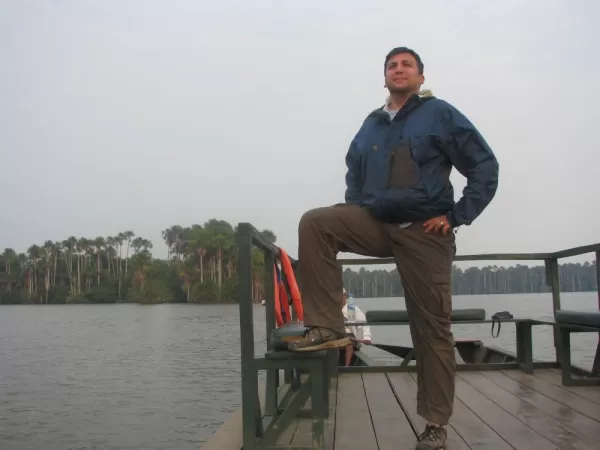 The morning of our second camping day begins with a hike where I learn a very important lesson: even though you are wearing pants, you should still put bug spray on your legs. I've been skimping on this step lately because one benefit of the altitude is that you don't encounter as many mosquitoes, but our hike this morning drives the folly of my decision home. Don't get me wrong, it's lovely. We're on one of the less popular Inca trails, and as we wrap along the side of the mountain Juan points out the vistas of Machu Picchu. I can't imagine walking all the way there….as it is, my calves are screaming by lunch. But we are able to stop every hour or so for water, and Juan takes us to the home of a local woman a bit before lunch and she shares some bananas with us and lets us take a rest in her hammock. One of the things I love about this trip is getting to see the activities that resonate with each of us, and Cory is loving today. He loves hiking, he loves interacting with locals and he loves hammocks. It makes me happy to see my new husband so happy.
We meet our crew for lunch and are able to give Aurelio some fresh avocados that we've picked up along the way. He quickly assembles them into our lunch of boiled potatoes and although it's a simple dish, it's so delicious after our early morning exertions. We hike some more in the afternoon – passing by some magnificent peaks and valleys– before heading back to the van for our drive to Santa Teresa. We camp near a lovely hostel, and spend the afternoon reading and relaxing in the sun. After a shower I'm able to assess the extent of the damage inflicted by the mosquitoes, which is (I'll admit) quite extensive and a little bit gross. I must have sensitive skin or something because my bites are so swollen that Cory tells me my legs look like a horror movie.
It's our last night with Aurelio and even though we've only had him and Edgar for 48 hours, they feel like a part of our team. They surprise us with a "Feliz Honeymoon" cake after dinner and I am amazed, once again, by the joy and the wonder of this trip.