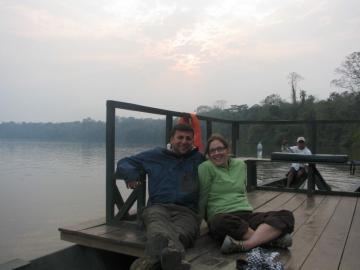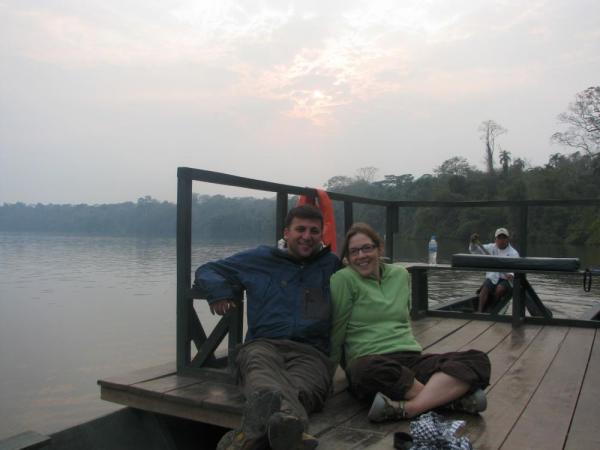 One of the reasons Cory and I chose the multi-sport tour was because it includes a little bit of everything. We wanted to relax on our honeymoon, to be sure, but we also wanted to explore, get a little dirty and have some adventures. Well, let's just say we got all that and more the first day we set off to camp.
Today we begin with a brisk mountain bike, an activity Cory has been looking forward to this since the beginning of the trip. A new team picks us up in Ollyumtambo – complete with a driver (Edgar), a cook (Aurelio) and a bike specialist (Alejandro). So now we are six, and Cory and I feel like royalty when we think that such a group has been assembled just for us. Juan takes us to the top of a nearby mountain, unloads our gear and gets us ready to bike. There are no cars allowed on this stretch at this hour, so the roads are perfectly safe, but shortly after we begin I realize that I did not anticipate how cold this activity would be. Peru is chilly in August anyway, but the temperature really plummets when you're biking downhill. I find myself speeding up to reach patches of sun and then slowing down a bit to luxuriate in them while daydreaming of all the cold weather gear I have packed away back home. What I wouldn't give for some gloves! But soon the day begins to warm and I'm able to focus more on my surroundings. The descent is gorgeous and you can literally see the vegetation change as we wind further and further down toward more oxygen-rich air. It was barren and snow-capped when we started, but by the time we stop for lunch we are surrounded by lush trees.
At lunch, we experience the wonder that is the camp cook for the first time. One minute we're biking, the wind whipping around us, and then suddenly we turn a corner to find a table set for our mid-day meal! Aurelio has prepared three wonderful courses and we all eat heartily in preparation for the afternoon leg of the bike trip. But little did we know that the next few hours would bring…
Cory, Juan, Alejandro and I only bike for about 10 minutes when we encounter a police road block. There is construction on the road, we are told, and biking is no longer allowed. Disappointed but not deterred, Juan says that we can ride in the van for a bit before finding another stretch of road. But alas, that is not to be. The six of us (along with several other cars) sit in a line of traffic for nearly three hours as we wait for the construction crews to finish for the day. At first it's an exercise in patience, but once we accepted our fate, the wait became fun. Cory, Juan and I pull out our books, pass out some snacks and find that time begins to pass more quickly. We get to our campsite later than anticipated, but the tents are quickly assembled and dinner is on the table in no time.
And so, despite the literal roadblocks we've encountered over the last 24 hours, Cory and I sleep under the stars confident in the knowledge that tomorrow is indeed another day.