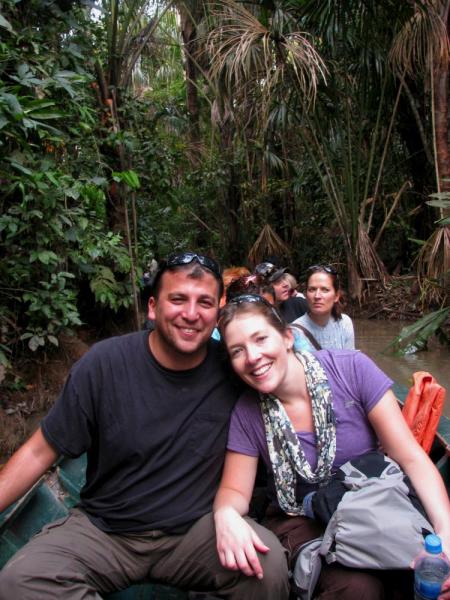 Today was the earliest morning of them all – a 4am wake-up call for bird watching! We're all so sleepy that we barely speak as Saul paddles us to land, but once we reach solid ground Paulina leaps into action, leading us in and out of the trees until we find the remote clearings were the birds start their day. It's an amazing site – our own private parrot playground! We take turns looking into the binoculars and marveling at the beauty in front of us. Cory and I have adopted the macaw as our relationship mascot – Paulina tells us that these beautiful birds mate for life and we rarely see one flying around without a partner. It's such a lovely image.
Tarantulas have also been on our minds, since we've seen several on our hikes and can now identify the difference between the species - chicken and pink toe. As a special treat for our last night, Paulina takes Cory and I on an extra hike through the trails in the back of the lodge. She points out tarantula nests and I stand with my camera ready as she and Cory try to coax them out. I don't share my husband's fascination with these huge, hairy spiders but I get a kick out of his brave persona – and although he says he says he's not afraid, he sure jumps back quickly any time any of the tarantulas start to move toward him!
It's a perfect last day, but also bittersweet. I'm excited to begin the multi-sport section of our tour, but sad to leave Paulina and Sandoval Lake.