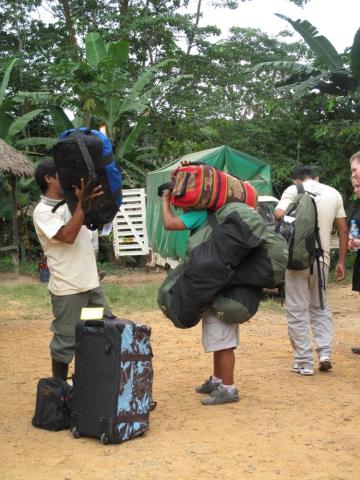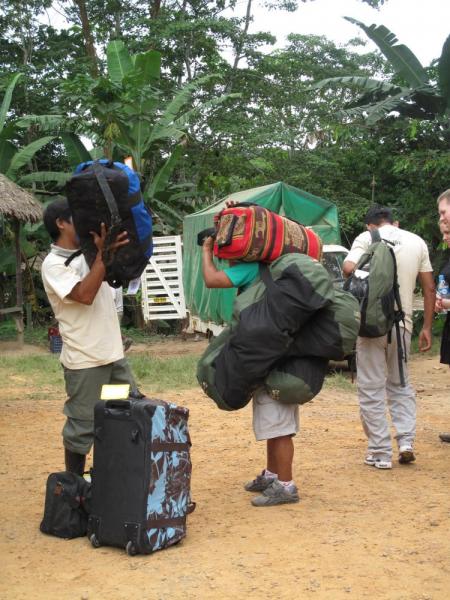 Early morning flight to Puerto Maldonado where we'll start our journey into the Tambopata National Reserve. The folks from Rainforest Expeditions meet us at the Puerto Maldonado airport and take us back to their office to rendezvous with others heading upriver into Tambopata. The welcoming committee at the office includes Ivan, our guide; Antonio, another guide and possibly the funniest person we've ever met; and the cutest pink-toed tarantula we've ever seen. Actually, it's the only pink-toed tarantula we've ever seen, but that didn't make it any less cute.
After a quick, 45-minute drive down a dirt road highlighted by Antonio's stand-up routine, we arrive at the port.
The porters must be wearing red capes under their t-shirts because they are carrying superhero loads of luggage and bags down to the motorized canoes. And doing it all with huge smiles on their faces.
We board a canoe with Ivan, Antonio, Ramon (our captain), and Richard and Gemma, two newlyweds from England. Ivan gives us the jungle version of fast food, delicious chicken fried rice wrapped in a banana leaf. Add in a juice box and you've got the perfect picnic. It's a gorgeous day, we're on a boat, meeting new people, eating good food--life just doesn't get much better than this. Or so we think.
The view from the canoe is awe inspiring--capped herons, chestnut-fronted macaws, yellow-headed vultures, red-and-green macaws, russet-backed oropendolas, a crimson-crested woodpecker, capybaras (the world's largest rodent), crane hawks, and a squirrel cuckoo. As it turns out, that was just the opening act!
Everyone told us not to expect to see a jaguar. They're shy, there aren't that many of them, they're mainly out at night, yadda yadda yadda. Even Ivan tries to manage our expectations, but we know. Just know. And there, on the first day, as if to welcome us to his world, is a jaguar. A JAGUAR! Sitting on the bank, he looks at us in a rather bored fashion, obviously not as excited to see us as we are to see him. After a minute or two, he stands up, turns around, and walks slowly back into the jungle. We're at a loss for words and just stare back at the spot where he was, huge goofy grins on our faces.
We arrive at Refugio Amazonas fully expecting to rough it in the jungle. Who knew it would be so nice! This place is gorgeous. The main lodge has two floors and everything is open so you can see the jungle everywhere you look. The rooms are simple but beautiful and very comfortable. The people are so friendly and helpful. Dinner is delish. We will discover as the week goes on that the food, while simple, is fresh and always delicious. And who knew you could get such killer cocktails in the jungle? Blue Morpho, Forest Fever, Amazonian Paradise. Our vote: definitely the Blue Morpho. But just to be sure, we recommend you follow our lead and try them all!