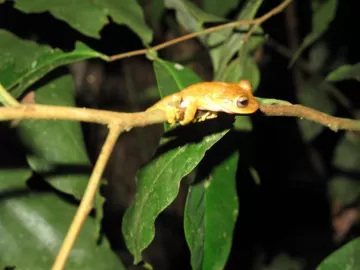 Today is the day! We're on our way to Machu Picchu. Machu Picchu for gosh sakes! After breakfast we take the train from Ollyantaytambo to Aquas Calientes. The train ride itself is beautiful. No matter where you look, something takes your breath away.
Santiago wisely suggests that we refuel with lunch before heading up the mountain to Machu Picchu. This will also let some of the crowds thin out so that our first view of what we've come all this way to see will be more of Machu Picchu than the crowds of tourists.
We find an outdoor cafe and sit down to what turns out to be one of the best meals of the entire trip. The cafe is blasting 80s music and the three of us sing along. How in the heck does this Peruvian guy know every single song that came out in the 80s, who sang it, and what country they're from? This is when we realize that Santiago's a bit more obsessed with Paul McCartney and the Beatles than we originally thought. His entire body seems to light up when he tells us that in a few days he's flying to Lima to see Paul McCartney in concert.
We board the bus and start the switchbacks up the mountain to Machu Picchu. It's actually an incredibly gorgeous drive up but if you have height issues, don't sit at the window. We queue up to enter and then as any good tourist would do, stand in another line to get a Machu Picchu stamp in our passport.
We could write 20 pages of commentary describing what it is like to see this magical place, but it would never even begin to do it justice. You'd have to be a poet to string together the right words. Between the two of us, we've seen some amazing ruins. Collectively we've walked the Great Wall of China, been to the Pyramids, explored the Parthenon, strolled around Stonehenge, and even spent a day at Palmyra in Syria. So while the ruins of Machu Picchu are impressively well preserved and very interesting in terms of the theories of why it was built and then abandoned, what makes it so special is the setting.
Machu Picchu is perched at the top of a mountain in a cloud forest. There is nowhere you look that you don't drop your jaw in amazement. It's why we've come home and driven everyone we know (and even a few we don't) crazy with our insistence they immediately book a trip here. If Machu Picchu isn't on your bucket list, add it immediately. And if you need one of us to go back with you, let us know.
Santiago does a great job of telling us what the different buildings are, how they were used, and even has us stand close to the hitching post rock to see if we can feel the energy coming off (we don't). But for us, this day turns out to be not so much about documenting the historical details of the ruins, but about the experience of being here. After climbing up to the Guard Tower and looking back down at Machu Picchu spread before you, with Huana Picchu in the background, you realize you're standing smack in the middle of one of the most iconic National Geographic images of the last 100 years, and it's a bit overwhelming. I'm not quite sure what Santiago makes of the fact that I suddenly burst into tears.
We can't seem to bring ourselves to leave this amazing place so the gods help us out with a brief rain shower to hurry us on our way back down the mountain. On the bus down, Santiago attempts to teach us some Quechua, the language of the Incas. We're ashamed to say that all we can remember of Quechua is that Machu Picchu means Old Mountain.
Waiting at the bottom of the mountain is the MaPei hotel, definitely the nicest place we've stayed so far. Dinner is amazing! The food is great, and there's a small band playing music. This wonderfully boisterous group at another table gets up and begins to dance. We decide it would be rude not to join them!