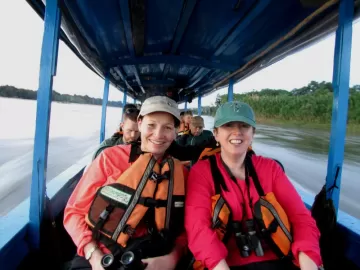 Ivan knocks on the door at 4:30 a.m. as promised. We stumble around in the dark, trying to find what we need with just our headlamps for light. Note to self: next trip to the jungle, lay out clothes during the daylight hours to avoid tearing apart your entire suitcase in the dark.
We take a quick canoe ride to a little island to see one of the world's largest clay licks. Again, Ivan tries to manage expectations by telling us that they haven't seen too many birds in the previous days. But we're not worried. The spirit of the jaguar is bringing us luck.
The guides give us little camp stools and we sit to wait. Only 5-10 birds at first, but slowly, more and more come. They bob and weave, ebb and flow. The smaller red-cheeked and blue-headed parrots, the medium red-and-green macaws, and, what we lovingly come to call Big Blue (the spectacular blue-and-gold macaws).
We're all overwhelmed at the spectacle in front of us. Regardless of what we thought the clay lick would be, it exceeds every expectation. I find myself offering up a silent prayer of gratitude. And just when I think I may start crying from sheer happiness, I see Antonio watching me, eyebrows raised, eyes rolling back in his head, and I laugh out loud.
The birds have their fill of clay and head off to do whatever they do. We're reluctant to leave, but our guides start moving us in that direction. As a consolation prize for having to leave this magical place, the jungle offers up squirrel monkeys, a white caiman, a few more oropendolas, and some red-bellied macaws.
Walking back to TRC, we hear the most incredibly haunting sound. It's like a spooky wind, or what you'd hear from the flying monkeys in The Wizard of Oz (oooooo eeeee oooooo). Ivan tells us that it's red howler monkeys and we immediately head off the path and into the jungle to find them. Ivan, who could literally find a needle in a haystack, finds the monkeys and lines them up in the scope. It's our first, but thankfully not last, glimpse of these little guys. In the days to come, the sound of the red howler monkeys will become one of our favorite memories and the single best alarm clock you could ask for. The rain, light only minutes before, is now coming down hard. We leave the monkeys in peace and head back to breakfast.
It's only 8:30 a.m. and we feel like we've already had the most incredible day ever.
After breakfast, where we successfully defend our pancakes against the chicos (two scarlet macaws who were born and live at TRC), we realize this rain isn't going anywhere. It is the RAINforest after all!
We ask Ivan for another tattoo, this time a paw print on our wrists in honor of our first jaguar. And then he offers up rainy day options. We decide, much to the chagrin of the other guests, that we will help Marco, the chef, cook lunch.
We don our Lucy and Ethel hairnets and Marco puts us to work shredding chicken, sauteing peppers, peeling hard-boiled eggs, and chopping vegetables. Once the Aji de Gallina is prepared, he graciously allows us to roll the cart out to the dining room and stands there patiently as we shamelessly take credit for lunch. Another exaggerated eye roll from Antonio, and lunch is served.
A full tummy, the soft sound of the rain, and a hammock conspire to create the most wonderful afternoon nap I think I've ever had.
The rain stops late afternoon and we slip out for another night walk. Because of the rain, the trails are beyond muddy. More like flowing rivers of mud. We sink up to our shins (thank goodness for those Wellies) and Ivan is enjoying a little too much how often we get stuck. But like everything else on this trip, we laugh at what would have made us angry or frustrated at home. Besides, if it weren't for the rain, there wouldn't be all these trees and monkeys and birds to see. And seeing that chicken tarantula with her babies makes the muddy trek worthwhile.