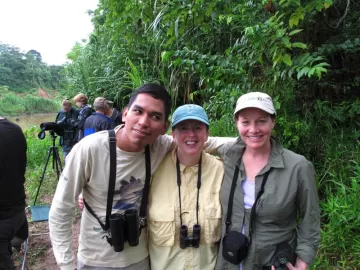 Our journey today takes us through the Sacred Valley. As we head out of Cusco, Santiago plays the Beatles' The Long and Winding Road, and it's just perfect.
First stop: a llama farm. We feed the llamas and alpacas who obviously like us better than the guy behind us because they immediately spit on him. We move along just in case they think he's with us. The farm is run by local artisans and we see how the fur is sheared and then dyed with natural ingredients like prickly pear cactus to create a range of vibrant colors. And what these weavers do with the yarn is some of the most beautiful artwork we've ever seen.
Next stop is the historic site at Pisac. Lots of terraces here. You see terraces everywhere in the Sacred Valley because it was the only way the Incas could grow anything in this mountainous region. There just isn't any flat land. The ingenuity of the Incas continues to fascinate. At Pisac we see more caves in the mountainside for the mummies; some 10,000 people were believed to be buried here.
We stop at a lovely restaurant in the town of Pisac for lunch, a restored colonial house with tables set up outside in the formal garden. Santiago issues our dietary restrictions for this meal--salad, no; alpaca, yes. We can report that alpaca is okay. It's no guinea pig, but it's okay.
From here we head to the circle terraces at Moray. Once again, we have to give it to those clever Incas. They basically created a laboratory where they could experiment with what types of crops grew best at different altitudes. Slightly more sophisticated than my soybean in the Dixie Cup in first grade.
At Moray, you can walk all the way down to the center--that's the good news. The bad news is that what goes down, must come up. And the walk up, at 12,200 feet, is no piece of cake. The Incas built something called flying steps on the terrace walls. Very clever in that they didn't waste space or a lot of stones building stairs, but a bit disconcerting the first time you step off onto one. We sort of feel like Indiana Jones taking that first step in the cave looking for the Holy Grail. Okay not really, but it is a little scary.
The salt mines at Maras weren't on the original schedule, but we had seen them in the issue of National Geographic that came out just before we left. Santiago adjusts things last minute when we say we'd like to see them. Maybe not something everyone would want to see, but it sure makes for some cool photos.
Now we push on to the town of Ollyantaytambo. Oh. My. Gosh. What an incredible place! The ruins here are literally built into the side of a mountain. Our first thought is WOW! Our second thought is, oh geez, more steps. We're pushing daylight so Santiago, very apologetically, doesn't have time to allow us to move at quite our normal snail's pace up the steps. He knows we'll regret not making it to the top while the sun is still shining. As usual, he's right. We get to the top and watch the sun set over the mountains and ruins and are again reminded of how lucky we are to be here.
Ollyantaytambo is also interesting because it's been continuously inhabited since the Incas and many of the homes here are original Incan dwellings. Everywhere we've gone, Santiago has known half the town, and this is no different. He takes us to visit the home of someone he knows. As we walk carefully across the stone floor, trying to avoid the guinea pigs running everywhere as well as their droppings, we are once again reminded how thankful we are for our little homes back in the U.S. Still, it's a great opportunity to get an up close view of how people in the rural areas of Peru live, both then and now. However, the minute we see the three skulls of their dead ancestors in a niche in the wall, we decide that our up close view is over. Time for dinner.
After dinner we head back to our lovely El Sauce hotel which is small, quaint, and extremely clean. It also has the most comfortable beds we've slept in so far. Definitely going to make more time for Ollyantaytambo on the next trip!