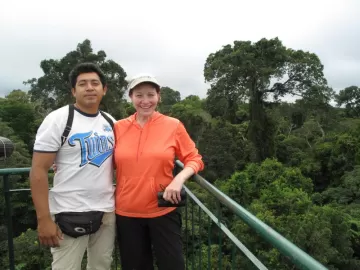 One last morning walk at TRC. The jaguars had come to say goodbye, but they were stealthy about it and we see only their tracks. A huge anaconda had also come to say goodbye and thankfully left only his track as well. That's one jungle resident we're okay not seeing in person. We pack and hike down to the canoe. Graciously, Ivan pretends not to notice that we are crying as we walk away from TRC. We both hate to leave this special place.
Ivan had arranged for us to stop at another clay lick on the way back to Refugio Amazonas. There's no way to describe what it's like to stand there watching the trees fill with these brilliantly colored birds. At one point we count 24 scarlet macaws in two trees together.
Back at Refugio, we enjoy one last dinner with Ivan, an amazingly talented guide, but more importantly, a great new friend. He freshens up our tattoos (something to remember me by, he says) and as we sit on the second floor of the lodge, watching a beautiful blue hummingbird on a bush full of bright orange flowers, we comment on how blessed we are to have seen and experienced all of this. And this promise we make--this is not the last time we will be here.