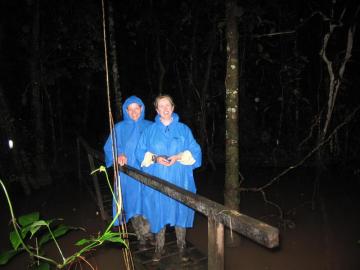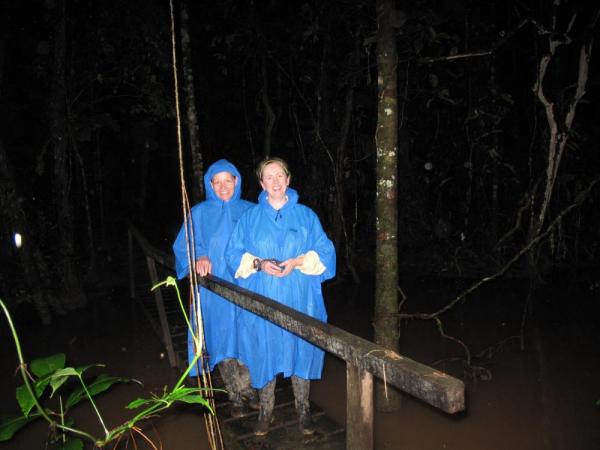 We're up at 5 a.m. to pack and catch the first bus back to Machu Picchu. This morning we're hiking up to Intipunku, the Sun Gate. It's Mother's Day and I can't help but think of my own mother as we climb. She visited here 30 years ago and inspired me to want to see it too. I can't wait to get home and share this experience with her. In the meantime, I offer up thanks for my mother on this special day.
The trail to the Sun Gate is relatively easy, as long as you stop every so often to catch your breath. The guides here are very intuitive about when you need to rest and they always find something to point out that requires you to stop and look. It's an extremely gracious gesture and our lungs are grateful.
While it's not a particularly long hike, we still feel we've accomplished something when we reach the Sun Gate. Machu Picchu looks small below and the mountains tower around us. We've run out of words yet again and wander aimlessly trying to take it all in. After taking photos form every conceivable angle, we begin the hike down.
Back down on the grounds of the ruins, we look around and find ourselves fascinated with the people who have come here. You see people of all nationalities, ages, and physical abilities. We meet one woman making her way up a set of steep steps with the aid of two canes and three grandchildren. 'Pass me,' she says, 'I'm going slow.' 'No ma'am' we say, 'we're using you as an excuse to go slow ourselves in this thin air.' 'I've always wanted to see Machu Picchu,' she says, 'And now I am. I refuse to let these bad knees keep me from realizing my dream.' I make a note to share her story with my father who has Parkinson's Disease but would love to come here. I think this sweet, spunky 85-year-old stranger has just removed dad's last excuse.
Reluctantly we board the bus and head back down to Aguas Calientes, grab lunch, and take the train back to Ollyantaytambo. At the train station, I see a man wearing a St. Louis Cardinals cap like my own. We both hope the other has scores or news, but no such luck. Santiago asks if perhaps I've seen someone about this Cardinals obsession, but smiles when I explain that it's sort of like his thing with Sir Paul and the Beatles.
A rather hair-raising drive back from Ollyantaytambo to Cusco is made fun by Santiago playing DJ with the songs on his laptop. On the way, we get caught up in a huge Mother's Day Festival in Urubamba. Music, food, and people everywhere! We wish we could join in the festivities.
Back in Cusco we must say goodbye to Santiago. After having to say goodbye to Ivan, Antonio, the macaws, monkeys, and Machu Picchu, it seems so unfair that another goodbye is in the cards. The three of us are standing in the hotel lobby, saying goodbye, and someone starts crying and then we're all off to the races. Spontaneously, I take off my Cardinals cap and give it to Santiago. 'No, no,' he says, 'Not your Cardinals!' But I want him to have it, I want a promise that we'll stay connected. And I like leaving a piece of me behind in this beautiful country.