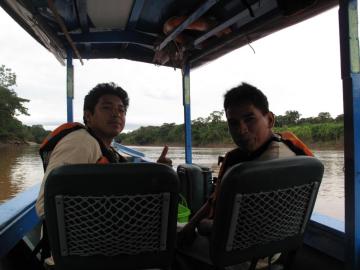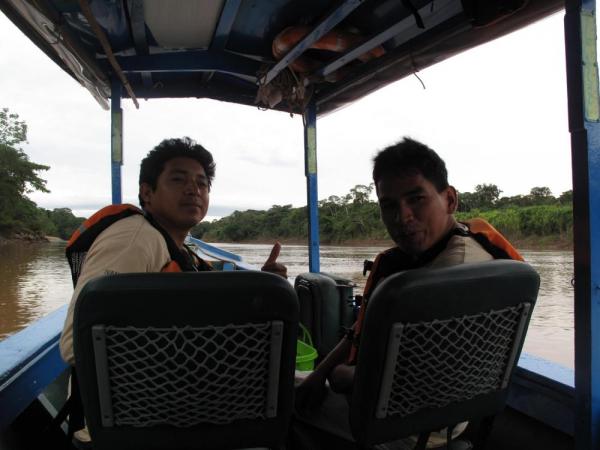 It rains most of the night and we're grateful for the openness of the rooms so we can hear all the jungle sounds. And the rain has made everything fresh and green and glistening. After breakfast we pull on our Wellies (knee-length rubber boots that will become your best friend in the jungle) and set out for the canopy tower.
Ivan seems to know the name of every single tree, plant, bird, flower, and insect. And he can find things that you'd never see on your own. We're trying to write it all down in our journals but it's so much. We realize at this moment that we can either focus on making a list or on enjoying the experience. It takes about a nanosecond to decide. Who cares if we can tell someone the difference between a kapok tree and an ironwood tree, they're both amazing! Our journals go in our backpacks and we give the jungle our full attention.
The canopy tower is about 32 meters high (approximately 100 feet) and from here we get an incredible view of the jungle. Ivan has taken the scope up and we see a pair of blue dacnises, these gorgeous little cerulean-blue birds. As we're ooh'ing and aah'ing over the dacnis, a pair of macaws flies in, then another and another. Then come king vultures, black vultures, a reddish-hermit hummingbird, a golden-collared toucanet, yellow-backed tanagers, olive oropendolas, blue morpho butterflies, and more macaws.
Back at the lodge we pack and have lunch. While waiting for the canoe to take us further upriver to TRC (Tambopata Research Center), Ivan gives us each a temporary tattoo. A blue morpho for one, a scarlet macaw for the other. Seems like the perfect way to mark the occasion.
We board the canoes after lunch and Fernando, a guide, and two other tourists have joined us for this leg of the journey. It's a long canoe ride to TRC, but between the addictive plantain chips, Ivan's commentary, and Fernando's stories, the time flies. Of course it doesn't hurt that everywhere you look you see something amazing. Others nap, but not us, we're too afraid of missing something.
We arrive at TRC at dark and are again pleasantly surprised at how nice it is. We take a much-needed shower and then join the others for dinner. Ivan tells us we should go to bed early since he'll be knocking on our door at 4:30 a.m. As he says, if you want to see the birds, you have to get up when they do.