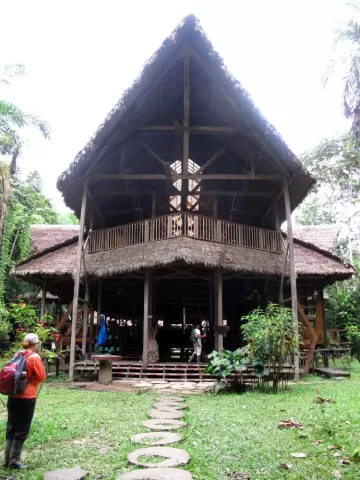 We awaken to the sound of the howler monkeys. One of the chicos, Inocencio I think, visits our room looking for handouts. It's pretty great that TRC has these two scarlet macaws for such an up close and personal experience.
We gear up for another hike through the jungle. Along our nearly four-mile trek this morning we see dusky titi monkeys, a termite highway, a tree full of paradise tanagers (gorgeous!), blue-and-yellow macaws, exotic flowers, leafcutter ants, and a great black hawk. We also see more red howlers, this time a family of two adults and a baby climbing all over her mama.
Just before lunch we're treated to a great acrobatic show by a group of tamarind monkeys behind the dining room. You have to give it to TRC--their floor show is off the charts!
After lunch we take the canoe back to the island where the clay lick is located. We're looking for a hoatzin, a rather odd, prehistoric-looking bird. We get to an oxbow lake and immediately see two hoatzin in a tree (seriously, that jaguar is bringing us amazing luck). As a bonus we get a capped heron, a rufescent tiger-heron, and a baby smooth-fronted caiman. Ivan then spots a couple of squirrel monkeys. We look up and see several, quite close, running quickly across limbs and jumping from tree to tree. They are wiry and fast and infectiously fun to watch. As we stand there, we see more and more, many of them in conga lines of eight to ten at a time. We lose count at 80!
Dinner conversation tonight is interesting. We have a smaller group which is nice. The guides are not only talented, but funny. The conversation winds down a maze of topics finally ending on the benefits of ayahuasca, the spirit wine. Jhin, another guide, and Juan Luis, a writer and photographer, are big proponents and take the spiritual aspect of it very seriously. Ivan thinks it's an excuse to get high. Jihn tells us it's important to get a good shaman to guide you through the journey because there are bad shamans who will convince you to do bad things or kill people. Juan Luis helpfully explains, You know, like Lord Voldemort. I guess Harry Potter really is the most famous boy wizard on the planet!