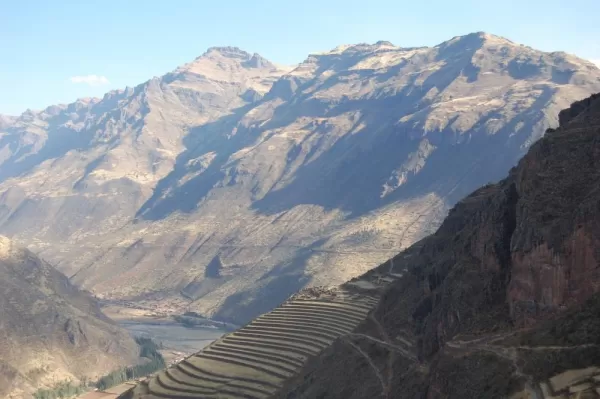 We woke up a little later on our last day and enjoyed a leisurely breakfast. Everyone repacked their bags and chose the outfit they would be wearing for the next 36 hours. Teddy met us at the hotel at 9:15 and rode with us to the airport. He had everything arranged and we moved swiftly through check in. We said our goodbyes, trading emails and hugs. We had all really enjoyed Teddy and his wit and banter had definitely kept us upbeat the whole week. We weren't quite sure what we were going to do without him during our last 12 hours in Peru but he had Daniel to collect so couldn't come show us around Lima.
Our flight to Lima was on schedule and we arrived in the capital around 1. Apparently it is dangerous to fly out of Cusco in the afternoon and so in order to be sure we wouldn't miss our international flight we were left in Lima with 9 hours to kill. It was a Monday so most of the archeological sites were closed but we had found one that was still open, Huaca Pucllana. A driver met us at the airport entrance and we lugged our bags to his van. We quickly realized he didn't speak English and since I had taken Spanish most recently (6 years ago), I was elected translator. We had a fun time trying to understand each other and he was very excited to talk to us. He seemed to have a great respect for the US, as one of his children lived there, and enjoyed getting to know his passengers.
On the way to the site we picked up a guide, Snow. She spoke English although her hurried speech and succinct descriptions left us wanting Teddy back. The weather in Lima was distinctly unappealing. It was cold and damp and the sky was grey. The winter on the coast had a very different manifestation than up in the mountains, where it was sunny and could get to the 80s during the day in the sun. When we arrived at Huaca Pucllana we also felt the difference. It was, quite literally, a pile of dirt. Snow informed us that the site had previously been used for motocross and as a pig farm and we weren't surprised. The city was a huge, 6 leveled pyramid made up of adobe bricks. The bricks looked like thousands of books stacked on top of each other. Each successive Huaca generation would fill in the old level and build a new level above it, resulting in the pile of adobe bricks before us. The grey sky didn't help brighten up the rather drab color scheme and the only saving grace was that the fishy smell that had greeted us on our first day was gone.
After the site we convinced our guide to drive us through the main square before depositing us back at the airport. There were lots of cars on the road and the buildings looked pretty run down. The city reminded me of Palermo, Italy and like Palermo Lima had a few nice spots. The main square with the president's house and cathedral were pretty although they didn't stick much with me because we just made a loop and then left. I would have liked a little more time to get out and explore the downtown. I don't think my three hour tour was sufficient for me to form a fair judgment of Lima but, from my experience, I wouldn't want to go back.
We were returned to the airport around 4:30 and had six hours before our flight left. It went by surprisingly fast as we took our time choosing dinner and perusing all the shops. The highlight of the airport was either the many gelato stores or the Britt shop that gave out unlimited free samples of chocolate covered fruits and nuts. So it was our vacation fizzled to an end as we sat at our gate and waited for boarding to commence. It had been a great adventure and an experience I will never forget.