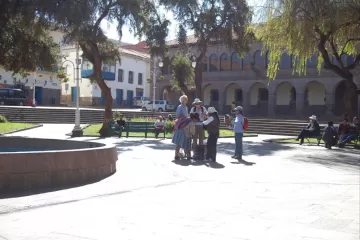 Our alarms went off at 6 and we grudgingly convened downstairs for breakfast. It was a very European spread with bread, meats, cheeses, fruit, some scrambled eggs and vaguely familiar looking cereals. We all filled up, not knowing when, or what, our next meal would be.
The trek across the street to the airport was not a difficult one but we were all immediately assaulted by the smell in the air. It was distinctly fishy. Someone had aerosolized a whole bottle of fish oil, and that's potent stuff. It didn't help that the sky was grey and the air was thick with moisture. The Lima airport brought a welcome relief although we were thrown into a long line of fellow fliers. Most of the passengers looked to be Peruvian and had huge, boxy, brightly plaided plastic bags that looked to contain all their worldly possessions. The natives seemed to know the inner workings of the line, though, and took advantage of the tourists. One particularly enterprising Peruvian was trying to cut the line right in front of our family unit but my mom was using her hips to block him out. Unbeknown to us, he deposited his small son in front of us and he meekly went to the back of the line. When the line snaked along and his spot doubled-back to align with us, he pointed to the fact that he needed to be with his young child and pushed his huge cart of bags, along with his friend, in front of us.
The flight to Cusco was quite pleasant. I got a window seat and watched as the arid, rugged mountains rolled by below. My brother Kevin, on the other hand, had his eyes glued to the tv which was showing practical jokes being played on unwitting bystanders. The whole time I was a little preoccupied about how my body would react to the altitude. Being 23 and relatively fit, I wasn't too worried but I had heard enough horror stories about altitude sickness that I had a healthy dose of apprehension. I imagined stepping onto the gangway and having my lungs gripped and wrung out by an invisible monster. As it turns out, my first lungful of Cuscan air was not nearly so dramatic and went largely unnoticed. I was almost disappointed. I had traveled all this way and my body wasn't even recognizing that I had left Chicago.
Teddy met us outside after we had collected our bags. He was our fearless leader and would prove to be always ready with a joke and a smile. We were all a bit dazed, some of us suffering from altitude induced headaches while others were just tired. We met up with Daniel, a solo traveler who joined our group for the duration of our trip, and were off to the hotel.
The hotel was very nice and had a welcoming lobby. My parents made a bee line towards a carafe in the middle which could only contain the much awaited coca tea. Having read about the wondrous powers of the liquid, my mom was counting on it to be an elixir for all maladies we may meet on the trip. The two of them sunk into a couch in the lobby and slowly sipped despite the fact that the stuff was nasty and it's current manifestation didn't appear to have any medicinal qualities. There was no rest for the weary, however, as I was eager to see the city we had landed in and quickly ushered them out of the hotel and onto the streets.
Cusco was a quaint town full of labyrinthine streets leading to grand, open squares. The streets were cobbled and flanked on either side by white stuccoed walls. Tourist shops were tucked into the nooks and crannies along with traditionally dressed Peruvians hawking their wares or advertising nearby restaurants. We were all stopped in our tracks when we stumbled out onto La Plaza de Las Armas. It was a huge open square and the middle had been carved out into a grassy green crisscrossed with walkways and dotted with trees and fountains. Two sides of the square were composed of towering red churches, indicative of the Spanish Baroque, while the other two were stone lined arcades.
By now we were all hungry so Teddy showed us to a restaurant just off the square. We were pleasantly surprised by the quality of the food when it came out. We had ordered very traditionally, including Aji de Gallina, Lomo satlado, and Trucha. The food was homey and hearty and, with full bellies, we felt refreshed. With a new found spring in our step we wandered towards a smaller square dominated by a large fountain. While admiring the water, an old woman dressed traditionally approached us and held out her arms. Dangling off each appendage were brightly colored belts and camera straps. Unable to say no, my mom smiled encouragingly and the woman knelt down to demonstrate her weaving. Her entrepreneurial daughter, also cruising the square, came over to get involved in the action. Eventually my mom bought a new belt. The damage was not too steep and thankfully they left us alone.
By now post postprandial drowsiness had set in so we trooped back to the hotel. We set a dinner meeting time and dispersed to our rooms. Kevin, my roommate, set an alarm for two hours later and we were both out cold.
Dinner was at the Inka Grill. We were seated in the loft and looked into the bar to all the libations we were afraid to drink for fear of getting dehydrated. The food was again delicious, although the menu looked suspiciously familiar. All our old favorites were there, although this time with a slightly more upscale explanation and a few fancy ingredients. My dad was quite happy when the bar tv started playing the Yankees-Red Sox game although it was quickly turned over to a soccer match. As one might expect, soccer overshadows all other sports. After dinner we were beat. It had gotten cold, probably mid-40s, and we were all looking forward to our beds. We easily succumbed to these wishes and by the respectable hour of 8:30 we were snoring.