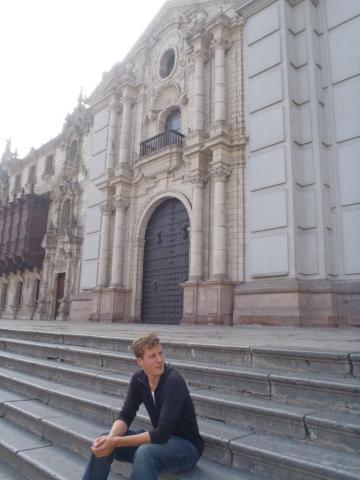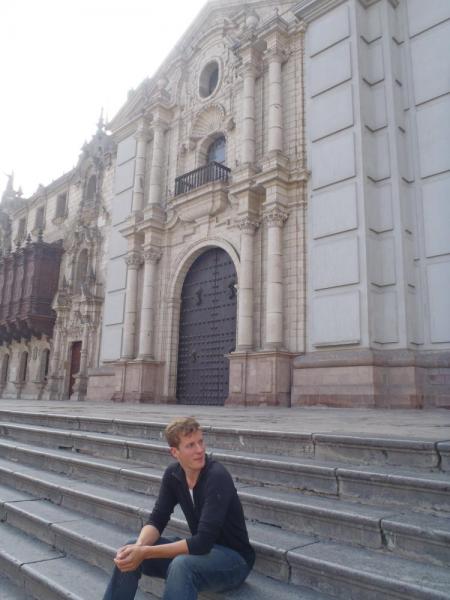 Normally, an airline losing two extra grande cameo duffel bags after a lengthy stop in only one city, would likely send me over the edge of any semblance of human composure. But my surprising attitude was a good omen of the trip to come, and quite a relief for my lovely wife. As I soared to over 200 feet on a paraglider above the hand tiled murals that line Lovers Park in Miraflores, the waves of the turquoise Pacific washing against the beach far below, my whole disposition regarding the adventure to come had changed. Those things we had brought that had once gave our mission here so much order and instruction shrank and faded from my mind like the hundreds of tourists and residents of Lima who stood on the sidewalks, gazing up to watch the flights.
So started what was to be both a triumph over many challenges and an amazing journey through the cities, mountains, lakes, and desert-like plateaus of Central Peru and the Andean Highlands. The excitement began straight after arriving at Jorge Chavez International in the backseat of a 1980s Peugout that nearly struck or ran over perhaps 50 or more varied objects, pedestrians, and other vehicles as four proper lanes of Peruvian street became swollen to seven or eight with hordes of other highly aggressive drivers diving between and around each other as our poor taxi fought its way at reckless speed to the Plaza de Armas. After reapplying a generous helping of antiperspirant [smartly packed in our carryon], we proceeded to the nearly ancient and overtly opulently Cathedral of Santo Domingo.
Our Spanish may have been totally lacking but we both were pretty sure that the word ''mass'' or ''service'', or making little signs of prayer and devotion, would translate well in either language between the cab driver and myself, but none the less he seemed aloof and confused when pressed as to what time church might start. Yet as luck would have it we arrived right on time.
The priests conducted their Saturday Mass in Spanish, the tradition and ceremony [not to mention incredible choir and golden fixtures] employed by the laity made me shudder and tremble to the point where I was fighting back a great urge to weep at the beauty and grandeur of it all. It is very much a service deeply wrought in ancient Catholic rites that has changed little since the Spanish had first built the ornate and overwhelming cathedral where today's mass was currently being held.
After the service concluded, my sense of spiritual well-being and optimism was almost shattered by cat calls and whistle, the words ''Gringo, Gringo, Gringo'' being whispered behind my back. Preparing for confrontation I whipped around only to find the twenty or so school children of Santimos des Jesus giggling and squeaking with laughter. I was immediately and completely disarmed of any ill feelings that had previously surface. Wherever they were visiting Lima from there must not have been many gringos passing through their village. After posing for several cell phone photos [and a few of our own] with them and the sweet little nun who was their charge, we all walked together to the second stop on their trip, and coincidentally ours as well, to see the catacombs at the Church de San Francisco.
The mountainous, corkscrewing arrangements of bones and skulls lost their most terrifying aspects as the children ran from corridor to corridor, asking us a millions questions and calling out ''Tomas, Tomas'' as a smiling face would duck behind a pillar. It truly was sad to part ways and see them leave, as a happier, carefree, and well-mannered group of Catholic school children was so welcoming; and also a wholly alien concept to me when compared to my tutelage under the LaSallian Brothers in Pittsburgh Pennsylvania. It was a group of kids we were quick to miss but sure to remember fondly.
We ran our fingertips along the rainbow mosaics at the Parque del Amore, to coin it romantic would be a huge understatement. Watching the Pacific crash upon the pebble beach far below the cliffs exuded a joyful magic that truly elevated the occasion. A young girl strolled around the central statue, wearing a white dress, her family in their finest, all celebrating her first Holy Communion as towering waves carrying several dozen surfers roared and tumbled to the shores amidst lovers lounging in the park beneath the shadow of two cement giants wrapped in an eternal embrace. All this together awakened a tenderness in both of us like we had just been married all over again, but that was to be for tomorrow.
And yes, much to our relief, later that evening the staff at Jorge International did produce our bags.