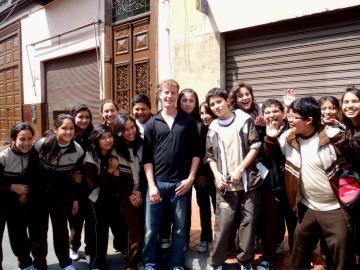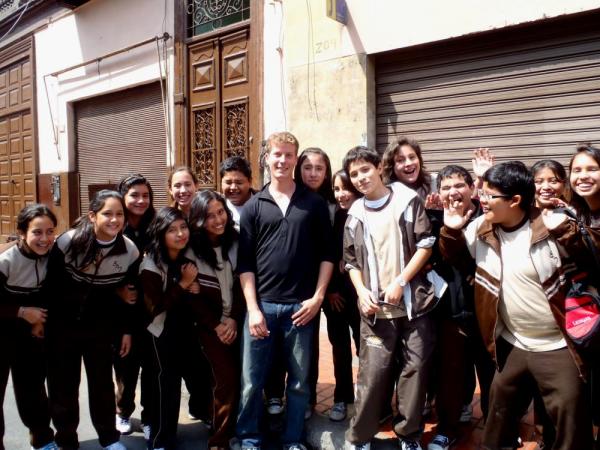 Lima is a beautiful and vibrant city but escaping the crowds for the highlands of Cuzco was a change we were very much looking forward to. Upon arriving at the small airport which sat nestled between the Andean mountains, we were relieved to find our luggage waiting patiently at the baggage claim and more relieved to find our guide, Juan Samanez, waiting for us at the airport exit. Juan was a tall man with a friendly face, a strong handshake, and an epic mustache, he was always more than genial and patient with us but when it came to dealing with his own countrymen he commanded an obvious respect, definitely what the locals would refer to as a mucho hombre. This was very much demonstrated as he lead us to meet another man called Carlos, the organizer of our Incan vow renewal. Carlos seemed like a nice enough muchaco but obviously Juan had some stern words for him regarding our safekeeping while under his care.
We all piled into a van together to pick up our Indian shaman and procure the necessary ingredients for the ceremony from the central market. The main market in Cuzco was incredible, fresh fruits and vegetables (many of which we had never even knew existed) lined the aisle, piled high atop each other in great heaps. Textiles of local design and craftsmanship were stacked neatly to chest height creating a cascade of colors and textures. Meat vendors hung their extremely fresh cuts of cow, alpaca, lama, guinea pigs, and chicken to dry and cure next to a vast assortment of tripe, tongue, and hearts. Over a hundred different kinds of corn and maize spilled from baskets onto the ground with deep, intense shades of blue, red, and gold, some with kernels the size of your thumb.
After supplying ourselves with a great variety of sundry goods such as wine, rocks and minerals, ropes, coca leaves, flowers etc. it was all wrapped in a great blanket and carried by the Shaman along the ancient cobblestone roads to a clearing high above the city. Through the pines we could hear the faint notes of the Peruvian flute wafting from a festival taking place on the opposite side of the mountain. The Incan Priest began by starting a small campfire and cleansing our beings with sage and some kind of very strong alcohol, almost like lilac vegetal. We were told to inhale deeply of these things to purify our souls in hopes that they might be more easily bound together. The priest called upon the spirits of the puma, snake, and condor, chanting, singing, and swaying for hours as an offering was constructed of flowers, minerals, gems, and coca. The shaman then bound our heads and neck together with a myriad of colored cords as an ereathral pulse shook and consumed us to our very cores. We rose after several hours with a great sense of peace and love, whatever doubts we had beforehand regarding the legitimacy of this venture were, on all accounts, completely dispelled. One day, hopefully in the far away future, upon leaving this earth we may very well find that the ancient magic that permeates through this incredible country has had its desired effect.
We were happy to see Juan again after we had descended the mountain to tour the Convento de Santo Domingo Del Cusco, built atop the ruins of the Incan temple of Qorikancha. Like many Incan sites we would tour on our journey, the Spanish had constructed a cathedral atop the interlocking stone work of the Incan Masons. It was ironic and somewhat satisfying to consistently find that, in most places, four centuries of earthquakes and erosion had toppled or destroyed the Spanish structures but that the ancient stone work of the Indios had only grown stronger as the megalithic boulders settled. To add to the ambiance of the temple were the ''Inca kids'' who dressed in their traditional garb and clutched baby lambs or lamas. Unbeknownst to us at the time, they were ignoring their studies to make quick money selling photo opps. to tourists. Me Esposa and I work in the field of criminal law and certainly do not condone the delinquency of minors but we couldn't resist the urge to pose with these adorable locals and engage in playful negotiations for the appropriate price of a photo. ''Twenty Soles [roughly $7 in USD] por favor,'' for the privilege, we would laugh ''No, no, no, too much'', ''Si, si, twenty soles'' as one youth would inform us that ten was for him and ten was for his llama. Satisfaction for both parties involved was finally reached after negotiating a sum of five soles and a handful of lollipops for the precocious nino.