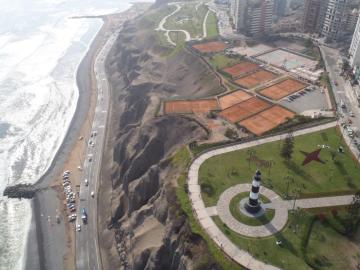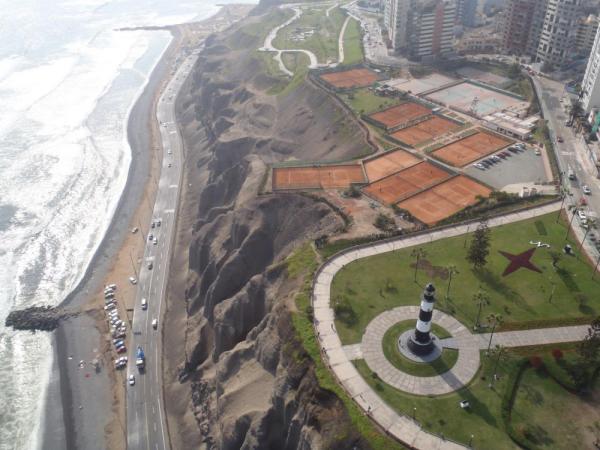 We woke the next morning after a much needed night's sleep to begin our boat trip to the Uros Floating Islands. Boarding a craft that was obscenely large and well equipped for our small crew of five, we glided swiftly and quietly through the water as we lounge on the top deck, listening to the waves lap against the side and basking in the warm Peruvian sun. The Uros Floating Islands were a spectacle that is unrivaled anywhere in the world. A whole village built of individual thatch huts on a small plot of reeds that floated several miles from shore in Lake Titicaca. Underneath the turquoise waters of Titicaca, one could see that each plot was several feet thick and was tied to a central location by large ropes that connected to an anchor somewhere in the dark blue depths of the lake.
Emerging from inside the hut we were warmly greeted by a woman who described herself as La Presidenta, the island's matriarch. A large, friendly woman with a generous smiled emerged from the tiny home and promptly whisked us around her small plot of reeds. She proudly showed off her television radio, solar panel, and her greatest possession, the ''Mercedes Benz'', a large reed boat with twin reed statuaries on the front which we boarded and enjoyed a leisurely float between the homes. After a simple but tasty soup prepared in her cucina, a small wood fired stove set atop the reed plot (''muay peligroso'' I said to her agreement) we left to a cheerful and heartfelt goodbye from La Presidenta and her family.
Sailing for much of the rest of the afternoon we arrived in a small fishing village near the Bolivian border where we stayed with the Imara people, a bilingual tribe whose appearance and culture was distinctive from the Peruvians we had met previously. At the home of Javier Rameros we ate a simple dinner of soup, fried cheese, and potatoes. He was a friendly and gracious man with many questions about our home and the people there; we talked for some time over a bottle of wine we had brought from the mainland (one which he was most thankful for). After dressing in some of the Rameros' finest traditional clothing, we were escorted to a party hosted by some of the locals. A large band played both traditional Peruvian flute music mixed with a rapid salsa inspired beat. We danced and drank corn beer, even our reluctant host was eventually chided into joining after a few Cusquenas. Sitting comfortably in the corner I watched my wife twirl and spin in a long stream of Peruvian women who eventually broke into a sort of Conga line which circled the room at a dazzling pace.
We watched the sunrise over Lake Titicaca from the quaint courtyard of our host's home among various small flowers before embarking back to Puno. The size and expanse of the lake was staggering as it melted, seamlessly, into the golden horizon. After arriving in Puno we boarded a small and colorful bus to tour the Sillustani Burial Towers. On a high plateau sat large stone silo's made of blocks that must have weight at least a ton each. The site was certainly inspirational, high above Lake Umayo provided a majestic view as we explored the 20 or so towers, each housing dozens of remains and dated from 300 B.C. Upon leaving, my wife paused for her photo at the entrance when suddenly, out of seemingly thin air, a little Peruvian girl, appeared at her side right as the shutter snapped. Only the blackest of hearts could have denied her the Sole she so industriously earned and we roared with laughter at her little game.
The next morning we left for the Juliaca Airport and our flight home, happy and completely satisfied with this grand adventure, with a new appreciation of our home and the many things we take for granted. We also took home with us a truer understanding of the benefits of a simpler life, of what the ''third world'' really means, of small joys and the quiet peace these people enjoy. Adventure Life delivered to us much more than promised. We were turned from rat race workaholics into true explores. We were challenged physically, mentally and emotionally. There were unknown and unplanned obstacles that were swiftly and gracefully overcome by our guides and crews. Perhaps most importantly inner barriers and fears were broken, our world view and understanding was greatly expanded, and for that we are truly thankful to the staff at Adventure Life, to Javier our guide in Titicaca, and most of all, to Juan Samanez whom we are so privileged to count as a companion and friend.