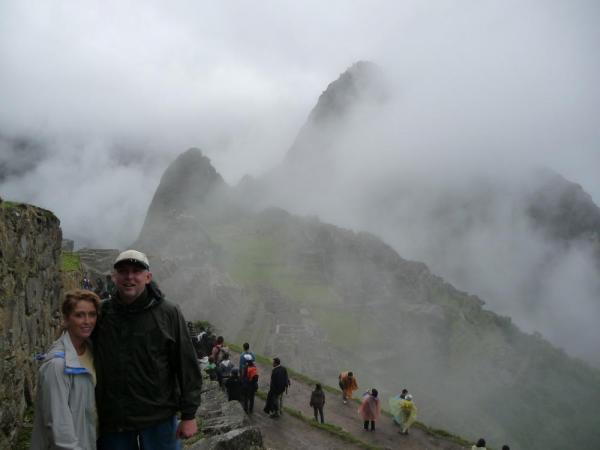 Today, we wake early, indulge in the continental breakfast, take a quick walk outside and then proceed to the airport to catch our flight to Cusco. Little do we know at the time that we will soon be meeting our Peruvian guardian angel, Santiago. Santiago is our ALV Guide, though he should arguably be hailed as a trip concierge. More on that later.
Santiago is dutifully waiting for us outside of baggage claim with our name on a placard, and we quickly unite and pile into the van. Immediately, Santiago reviews critical information with us, including his knowledge of my asthma condition (impressive) and reviews what we can expect that afternoon and evening. As we drive, Santiago points our items of interest and starts to peppers the commentary with his yarns about Cusco, and his beloved Peru. We arrive to Taypikala Hotel and Santiago checks us in - taking care of everything. He suggests that we nap, but I explain that with Rex Ringle along that is a very unlikely probability, so he leaves me a map to the Plaza de Armes, a leisurely walk from our hotel, and we agree to meet in our lobby in a few hours for a short walking tour of the city with the other members of our group: Christine and Pierre, who are staying at an alternate hotel. Yes, that's right. We have a total of 4 people in our tour group. A nice surprise is the intimate group size.
We are shown to our room which has two double beds. We call the front desk and explain that we prefer one big bed, and they agree to move us. We head out, with the agreement that the hotel will move our luggage to a room with one big bed, disregarding Santiago's advice to take it easy and allow ourselves time to acclimate. We take a wrong turn and almost instantly find ourselves in a seedy part of Cusco. As we stand on the street trying to regain our bearings, a very nice English speaking person volunteers help and redirects us toward Plaza de Armes.
Back on track, we stumble upon a park and creche (enormous nativity scene - larger than life) display, where Peruvians are filing by and taking photos. This is a reminder that today is the day after Christmas, which would have slipped our minds without this overt display of catholicism. Just behind the creche, up the hill, is the Catedral de Santo Domingo: we head that way. On the steps are charming women dressed in traditional Peruvian garb, and one is cradling a baby lamb in her arms She offers me a seat to get my photo taken with she and the animal. As she removes him from his blanket sling, he is covered in feces (yuck!) and her friend and I have a laugh over it. Unphased, the entrepreneurial woman wraps him in a fresh blanket and I smile, Rex snaps the photo and I pay the sole (which I knew was part of the deal, due to the materials provided by ALV). This will soon become the joke of the trip, as everywhere I go in Peru, women try to lure me to pose with their lambs, over and over, probably 20 times a day. We decide later that I have "sucker" written all over me.
At 2 pm sharp, Santiago is back to retrieve us from Taypikala, and we head to meet Christine and Pierre at their hotel. We pick them up and it starts to drizzle. We have our rain gear with us, as Santiago had warned us of the likelihood of rain, so we don our gear and proceed undeterred. Christine soon take s tumble in the streets of Plaza de Armes, and her slacks are soaked. Concerned, Santiago offers to return her to her hotel to change, but Christine insists she is fine and we proceed to the local market, an open air market where local people buy and sell their food. The colors, smells and sights of the market are a perfect backdrop to set the stage for our time in Peru - unexpected, lovely, colorful and jarring. As we serpentine through the market, Santiago talks of customs and culture, and the poverty of the people we see. We leave the market and proceed to Santo Domingo.
Since its Christmastime, Santo Domingo has on display an enormous larger than life-sized Creche, or nativity scene. We spend some time taking photos, and then proceed up the hillside to the cathedral. As we walk, Santiago points out the