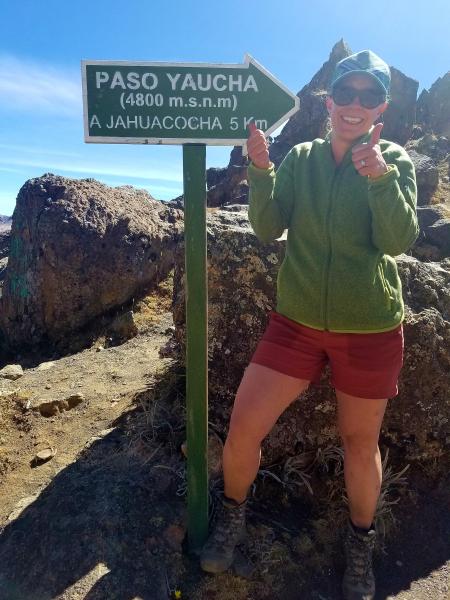 It's always been my dream to do a long-distance trek in Peru. Peru was the first destination I specialized in when I started working for Adventure Life, many moon ago. I remember sitting down at my desk on Day 1 and studying the itineraries and regions. Machu Picchu = check. Sacred Valley = check. Cusco, Lima, Arequipa, Lake Titicaca, Colca Canyon = check. Cordillera Blanca .... wait ... what's this .... holy cow, those are big mountains! I'm a mountain girl at heart. I live in Montana (montaña being mountains in Spanish) and I spend a lot of my time skiing, fishing, hiking, biking and otherwise tooling around mountains. If I had to describe myself to someone and use only one word or phrase, that would be it.
So, I've had my heart set on trekking the Cordillera Blanca for years. "But, hold on a second here .... you didn't trek the Cordillera Blanca ... you trekked the Cordillera Huayhuash" you might say. This is correct. When it came down to plan this trip, I contacted our local outfitter in Huaraz and he actually talked me out of the Blanca for this trip. He took a few moments to describe why the Huayhuash might be a better set of mountains: more remote, less trekking traffic, and you can walk around the entire mountain range in 10-12 days. After doing a little research, I was convinced he had our best interests at heart and we made the trip plan.
10 days. 100 miles. The entire trek between 14,000 and 16,500 feet. But we wouldn't be carrying heavy packs. We'd have a cook/guide, arriero (packer), 4 donkeys and a horse to carry our gear. "I can certainly handle this", I thought. And thus, I became that much closer to achieving my goal of long-distance trekking in Peru.