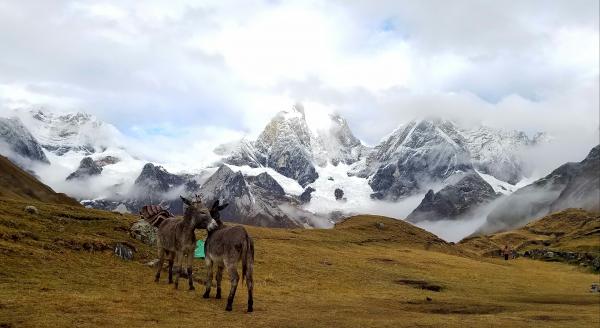 One thing you can't miss when you're hiking in Peru is the presence of livestock. People have been living in these mountains for thousands of years, whether it be the Huayhuash, the Cordillera Blanca or any other range. Even when you think it's far too remote for people to be living there, several days walk from the nearest village, you'll come upon a stone hut with a thatched roof. The Huayhuash is not a formally protected area (for more information on that, see the Community Management post).
Every summer around April or May, couples and men from the local communities head out into the mountains with their cattle, sheep or llamas. They live in the stone huts and graze their livestock on the high altitude grasses. Water is plentiful as it pours out of the glaciers. In the winter, usually in October, the people drive their livestock back to their communities where they live the rest of the year.
What amazed me more than anything was were we would find these cows grazing. I thought they would accumulate mostly in the valley bottoms, but by June those had been heavily grazed and the cattle were heading to higher ground. WAY higher ground. We would find them grazing under hanging seracs at 16,000 feet, oblivious to the risk above them. We would haul our butts up huge mountain passes with incredibly steep slopes only to find a couple of cows chilling at the top. It became a joke between us. If a cow can make it up there, we can make it up there. And then it became a song, "If a cow can do it, Kassi can do it." Even though that sort of rubbed me the wrong way (never compare a cow and a woman - no matter the reason), it had a catchy tune and it did help me keep perspective. Seriously, I know these cows are acclimated beyond what I ever will be - but if they are up here, I can be up here.