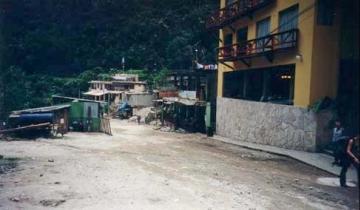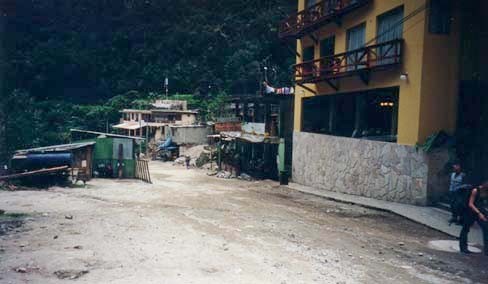 Craig and I have known about Peru for as long as we can remember. I recall doing a book report on Machu Picchu in 4th grade. The pictures just captivated my imagination. So we decided to investigate trips to Peru. Craig found Adventure Life on the web. He had some very informative and friendly e-mail communication with Mary, and we decided on the 17 day Panoramic Peru tour. We decided we wanted to investigate whether or not any immunizations were required for the trip. I found the Lahey Travel and Tropical Medicine Clinic online. They are located in Burlington, MA. I called in December and left my information on an answering machine. About a week later , they called me back to schedule our first appointment. Our first appontmnet was on Jan 23. We met with Dr. Ooi, who was very knowledgeable about travel medicine. We gave her our itinerary and she recommended several immunizations. She gave us each a typhoid shot and a Hepatitis A/B shot, and Craig also got a tetanus/diptheria shot. Our next appointment was on February 27. We got our second round of Hepatitis A/B shots, as well as yellow fever shots. Craig got a MMR booster, and I got a Tetanus/Diptheria shot. Our final appointment was on June 1. Craig and I got our final Hepatitis A/B shots, and she prescribed some medicines as well. She gave us Cipro for traveler's diarrhea and Diamox for altitude sickness. We were told to only take them if necessary. The Lahey Clinic was great; very well-organized and expert in their field. It is a very easy, efficient process, and we highly recommend them if you are traveling to a foreign country that might pose health risks.
The trip we booked includes a variety of different destinations, some coastal, some desert, and some highlands (Andes mountains). It includes Machu Picchu, Colca Canyon, and even a homestay with an indigenous family on an island in Lake Titicaca. Not knowing how altitude would affect us, we didn't choose a trip included a 2 or 4 day hike of the Inca Trail. Looking back, we wish we had had the chance to do the Inca Trail. We did some hiking on the trip, and it left us wanting more. Oh well, there's always next time!
We also lucked out on this trip, because noone else signed up for the same time period. The tour had a minimum of two travelers, so the trip went as scheduled, and we wold up with private guides. This was wonderful, as we had lots of individual attention and became quite close friends with our guides. Because this trip was so long and varied, we have split it up into three distinct sections. Page 1 covers the first week of the trip with our guide Carlos. Places include Lima, Pisco, Nasca, Arequipa, and the Colca Canyon. Page 2 covers our trip to Lake Titicaca. There we visited the man-made Uros Islands, Taquile Island, and spent the night with a local family on Amantani Island. For this section of the trip, we were with Henry. Page 3 covers the end of the trip with our guide Vidal: Puno, Cusco, Sacred Valley, and Machu Picchu.
We woke up at 6:00 and finished getting ready. Craig's Mom picked us up at 9 and brought us to the airport. We arrived there at 9:40. By 10:10, we had completely checked in and passed through security. We had plenty of time prior to our 12:30 flight to Miami, so we ate breakfast at Burger King. We arrived in Miami about 3 hours after takeoff. We had an hour layover. On the flight from Miami to Lima, we were seated next to Babs, an older woman from NYC who had some amazing travel stories about taking cruises to view eclipses, etc. She was on her first trip to Peru, and we had a great conversation with her. We had beef stew for dinner. This flight was about five hours long.
We arrived at 9 pm local time (they don't do Daylight Savings Time, so they were an hour behind EDT). We passed through passport control and customs. We then ran the gauntlet of taxi drivers and found a guy who had a placard which bore our names. He paid the parking fee and then let us into his white Toyota Corrolla (they, along with old school VW Bugs, are probably the most popular cars in Lima). There were a lot of police in the airport area. Getting driven to the hotel was interesting. It was Friday night, and there were people everywhere. Lots of pedestrians and lots of traffic. Few traffic lights and stop signs, with cars just racing through intersections beeping their horns. Lots of urban sprawl, with casinos and lots of establishments named after Hollywood (one was called "Hello Hollywood." We couldn't tell what it was). After about half an hour we arrived in Miraflores, a more affluent part of the city which was calmer and prettier. There was a golf course, gorgeous parks, beautiful houses, and lots of trees. We arrived at the hotel (Villa Molina) and were buzzed through the gate. The driver said goodbye, and that he would see us tomorrow. We got a little confused and were wondering if he was indeed a cab driver or whether he was our guide. I guess we'd find out tomorrow. We were shown to our room (403) and in order to go up the stairs we passed through their gorgeous courtyard. Our room was very clean and nice, with a Spanish bed and windows on two walls. It had a nice bathroom, and we were first introduced to the concept of throwing toilet paper into the trash. The plumbing pipes in Peru are only two inches in diameter, so they can't accommodate paper. Though it was hard to get into the habit that first day, we got used to it very quickly. We watched the Discovery Travel Channel for a while (nice satellite TV channels) and then went to bed.