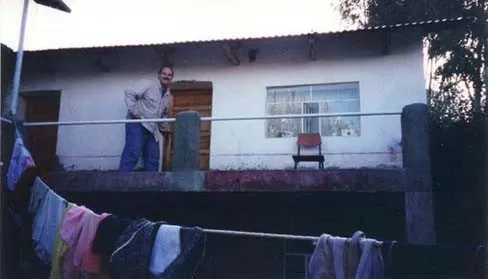 We got up at 6 and had a continental breakfast delivered to our room at 7:30 (bread, jelly, papaya juice, and mate de coca). Carlos and Señor Andreas picked us up at 8:00. The strikes were over and all roads were now opened. On the poor outskirts of town Carlos explained why so many houses in Peru are left unfinished: once you finish them you need to begin paying taxes on them. We stopped at a store and bought candy, water, and postcards. The woman gave us a postcard of a condor as yapa! Back in the van, Carlos gave us each a mini banana that he had bought, and he let us taste some of his strawberry soda. We were on our way to Colca Canyon. We passed Misti (volcano that has been smoking ever since last June's earthquake - this is a classic volcano with one peak), Chachani (volcano with many snow topped peaks) and Pichu Pichu (which means "many peaks" in Quechua. The Quechua language pluralizes words by repeating them) which is also known as "the Indian lying down". As we drove up ito the mountains we saw vicuna, which look kind of like deer but they are really cameloids. They can only be shorn once every two years, and their wool is very precious. They are endangered because poachers used to kill them, but now the locals round them up, tag them, shear them, and let them go back to living in the wild. Next we saw some herds of llamas and alpacas. Carlos explained how to tell them apart: Llamas have long ears which are usually pointed up, no fuzzy fur on their face or below their knees, and a tail that is usually pointing up. Alpacas are smaller, with fuzzy wool all over their bodies (face, neck, lower legs included), with ears and tail that are usually down. There was a white baby alpaca that was very cute. We saw some pink Chilean flamingoes in the salt flats in the mountains. We stopped at a restaurant which served coca tea (made with the actual leaves) to help with the altitude. We bought some postcards and used the restrooms. We ran into the group from the Ballestas Islands and the convent, and we said hello. Then we got back into the van. Carlos and Señor Andreas were determined to find a vizcacha (rock rabbit) so the van pulled over and Carlos clapped his hands to try to get them to jump into view. No luck. Then, as we were driving, Señor Andreas and I spotted one in the road. We pulled over for a closer look. They are like a cross between a rabbit and a squirrel, with a big bushy curled tail. Sñenor Andreas was very happy to stop anywhere we or Carlos wanted to stop. He spoke no English, but he was a lot of fun, and we laughed a lot.
There was a section of land where there were all kinds of small rock cairns. We pulled over here. Several women were selling blankets and other items. One of them had a son who looked to be around two years old. He was eating some snow he had found on the ground. I asked his mother if I could get a photo; he was so cute! She said yes. I took a photo. As Carlos talked to us about the place, the little boy stayed near us and followed Craig. At one point he held out his hand and offered his snow to Craig. It was so cute and generous! Craig accepted it and after a few seconds the boy wanted it back and started whimpering a little. I snapped a photo as Craig handed it back to him. At this point we were at about 16000 ft, and Craig started to feel a bit lightheaded. We continued driving to the village of Chivay, a large village in the Colca Valley. We ate lunch there. Teere was fresh hot bread that expanded as you cut it. Our appetizer was a huge tortilla (which resembled a combination between an omelette and a pancake) with green beans and carrots inside. This was followed by alpaca steak with french fries. The taste of the meat was a little strong, and Craig loved it. For dessert we had pie that had a layer of cactus fruit over a layer of pureed sweet potato. We drank mate de coca (the real kind, with leaves). Noone can ever accuse Peruvians of skimping on food. All of our meals everywhere have been so big (and tasty!) There was a traditional Peruvian band called the Kollawas playing. They consisted of two men and two women. They were very good, and we bought a CD from them. They were friends of Carlos'. Craig and my entire lunch cost 31 soles, which means about $5 U.S. apiece. Unreal!
We left Chivay and drove around. Lots of agriculture in this area, and you'd see people working potato fields everywhere. The fields were terraced and looked gorgeous. There were farmers with bulls, sheep, pigs, and burros in the road, and Señor Andreas often had to beep to get the animals out of the road. He moo'd at some particularly stubborn bulls, which was quite funny. We all had a good laugh. We took a 1.5 hour hike through some 1400 year old ruins (Uyo Uyo). It was a nice hike that overlooked people working their potato fields. People in this area dress much more traditionally than any people we had seen up to this point. The altitude was about 12000 feet. We felt ok, but as we hiked we had a hard time catching our breath and our heart rates went way up. Carlos grabbed some muña plant, gave us each a sprig, and told us to crush it in our hands. We did so, and then breathed in the vapors. It was kind of menthol-ish. Immediately our heart rates went back down and we could breathe easily. There is definitely something to be said for herbal remedies. This was amazing. We hiked past some ruins of warrior's houses. Most houses were made of irregular stones, but the ones of perfectly fitted regular stones were the homes of nobles. There was a waterfall at the top of a mountain and an elaborate system of channels had been constructed to supply the village with water.
We met back up with Señor Andreas and he drove us the remaining 5 minutes to the Colca Canyon Lodge. It was a beautiful compound with a common room, fireplace, game loft, etc. As soon as we entered we were served coca tea. We checked into our room and then met Carlos in the hot spring. You follow a little path from the hotel down to the banks of the river, and there are some amazing hot springs. When we got there it was still light out and we were the only ones there. The water was very comfortable, like a consistently warm bath. The pool was fed by another pool which was very hot (85 degrees C). You could see stars even before the sun set. As it got darker and darker you could see more and more. Southern Cross, Magellenic Clouds, the Big Dipper (upside down), the Milky Way...unreal! Some British, Scottish, and Irish people joined us, and we had some good conversations. We saw a ton of satellites fly by. All told we were in there for about an hour and a half, and were quite pruned when we reluctantly got out. We went back to our room (Room 7) to change and then met Carlos and Señor Andreas in the dining room at 7:30. We sat at a table next to a large fireplace. It was nice to have Señor Andreas eat with us (often the drivers eat with each other rather than with the tourists and guides). Dinner was good. It was $8 apiece. We had fresh hot bread. For an appetizer Craig had queso soup (which included tons of cheese and potatoes) and I had quinoa soup (made from quinoa, a local grain which is currently being used for astronaut meals by NASA). Both were very tasty, and there was a lot of each. I had chicken in peanut sauce and mashed potatoes. Craig had beef stroganoff and mashed potatoes. I had orange mousse for dessert (it was kind of like a souffle). Carlos complained (jokingly) to the waiter that his dessert was too small. Then Carlos went to the desk to get our passports photocopied. While he was gone the waiter brought him a second dessert. I said "yapa!" and the waiter and Señnor Andreas started laughing. We went back to the room at 9:00. I wrote in the journal and we went to sleep at 10. It will be an early morning!