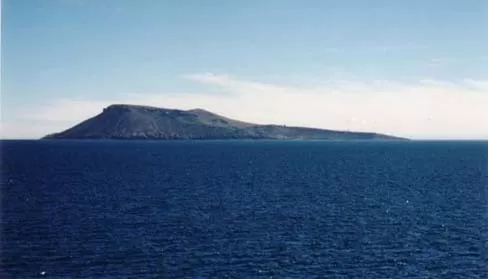 We woke up around 6:30 and had a liesurely morning with hot showers with good water pressure. The weather was around 70 and sunny but with high humidity. We turned on the Discovery Travel Channel and they had a show about Machu Picchu and Nasca! Unreal! We watched for a while getting more and more excited about what was to come on our trip. At 9:30 we went downstairs for breakfast. A hotel worker who spoke English showed us to the dining room, where bread, jelly, ham, cheese, and fresh squeezed papaya juice (as thick as nectar) awaited us. The room was gorgeous, with art and a nice chandelier. We chatted with a couple from Argentina who were in Lima for a family wedding. We drank some mate de coca (coca tea) made with a teabag. The waiter motioned that it is good for the stomach (and we also know that it is used as a remedy for altitude sickness, so we assumed we'd see a bit more of it during the course of the trip). We stood on the patio overlooking Miraflores. There were skyscrapers in the distance and Spanish influenced houses on the block. It was gorgeous. There was a really beautiful church nearby...very modern yet Spanish influenced. It looked like half a cylinder turned on its side, with a very stylized steeple. We read the guidebook and wrote in the journal while we waited for our guide to meet us. Then we checked out and sat in the courtyard, under a piece of cloth draped over the courtyard for shade. The black Lab that lives at the hotel came to visit us.
At 12:30 our guide arrived. Turned out that it was not our driver from last night, although the driver was there as well. His name was Boris, and he was there to drive our guide Carlos to the bus station with us. Carlos showed us a place to sit at the bus station while he checked our backpacks. Then we chatted with him for a while, just getting to know one another. Carlos was born and raised in Arequipa, and still lives there with his family. He is of Quechua and Spanish descent. He seemed like a really great guy right from the start, and he promised that he'd show us more of Peru than just "ruins and the church." We went into the lounge at the bus station and he bought an Inca Kola and let us try some. This is a truly Peruvian soft drink...bright yellowish green and tasted like bubblegum. It is so sweet. We boarded the bus. It was a double decker "royal class" bus, and we were right in front on the top deck so we had a gorgeous view. Carlos gave us some strawberry creme cookies. The bus was scheduled to leave at 1:30, but really left around 2 (this, we were told, was "Peruvian time.") We had headrest, armrests, footrests, air conditioning, and even TV. Getting out of Lima was a trip.So many cars, buses, etc...no lanes...a total free for all, everyone beeping their horns at every potential conflict. We laughed the whole way out of Lima because of the chaos of it all. Once out of Lima we were on a normal highway (the Panamerican). We passed shantytowns on the outskirts. People can squat on land and petition the government for a title to the land. The government usually grants it, but as with any bureaucracy it takes time. In the meanwhile the people need to stay on their land in a temporary shelter (otherwise others will squat on it and take it from them). People usually need to squat for 4-6 months straight. After that, when they are granted a title, they usually need to go to work in the city to earn money to actually construct a permanent house.
Sales tax in legitimate stores is 18%, and most residents of Peru can't afford to pay that. So they set up little markets and outdoor concessions where they sell to one another without the burden of sales tax. We passed a large furniture market that operated in this way. The landscape was gorgeous. There was desert in one direction, ocean in the other, palm trees, huge sand dunes, and lush green valleys with crops such as cotton, corn, grapes, and asparagus. Shantytowns were springing up in gorgeous locales along the ocean. In the U.S. this land would be developed by hotels and resorts. In Peru it is given to locals free of charge by the government. There were big, boulder-like islands off the coast that looked fake because they were illuminated so perfectly by the late afternoon sun. They started to play a movie: "Meet Joe Black." The sound was carried over speakers (rather than headphones), so we could hear the movie at all times. Although we were looking out the window rather than watching the movie, the sound creeped into our subconscious and after a while we found ourselves entertained and interested in the movie in spite of ourselves. The audio was in English but it had Spanish subtitles. A girl brought around some snacks...cups of Inca Kola and a little cellophaned tray of food. There was a pastry, a hard candy, and a chocolate cupcake. I decided to start with the pastry. It looked like a small fruit pie. What was inside? Strawberry? Papaya? Orange? Imagine my surprise when I took a bite and found a room temperature hot dog inside. Not exactly what I was expecting! It wasn't bad...just a surprise! Craig said the look on my face was priceless. I just started laughing hysterically. Just as the movie was at its dramatic climax, the TV shut off, and that was it. So now we've seen about 85% of "Meet Joe Black," and we feel compelled to see the ending...just because. It was so weird. We drove through Chincha, where most of the black population of Peru lives (they were initially brought there as slaves of the Spanish). There was a rotary with a lot of traffic (cars, buses, motorized tricycles, etc.) Our bus went the wrong way around to take a short cut to the bus station. It was exciting!
We arrived in Pisco at around 5:00. After collecting our bags Carlos ushered us quickly into a waiting cab, whcih drove us a few blocks to the Hostal Posada Hispana. He whisked us inside the gate. It was a whirlwind and we felt like celebrities with bodyguards or something. We were shown to our room on the second floor. It had a clean bathroom and a window that overlooks the street. There were a lot more cars around here than at our hotel in Miraflores, so the general atmosphere was a bit more chaotic. We had a little time to unwind in our room, and I wrote in the journal while Craig flipped throuigh TV stations. It was Saturday night, so "Sabado Gigante" was on! It felt like we were home. It seems to make a bit more sense here, though, than it does from home. And we saw its competition...an equally bizarre variety show called "Sabadazo." We met Carlos at 6:30, and wandered through the town. We saw our first Plaza de Armas (main square). It was pretty and well-lit. Tourism is starting to arrive here in Pisco, but for the most part there weren't many tourists. There were a few street vendors trying to get our attention, as well as some girls trying to coax us into their restaurants. We went into one restaurant, but when Carlos looked at the menu he thought that the prices were too high. So we ordered Pisco sours (the national drink of Peru), made of Pisco grape brandy and egg whites. Carlos taught us some Spanish phrases. Craig felt something furry brush past his leg under the table. After a brief moment of confusion Carlos reached under the table and emerged with a small orange and white cat. She was adorable, and loved the petting that Craig gave her. We were told by Carlos about the abundance of internet cafes in Peru. Tourism wasn't the impetus behind them. Most Peruvians can't afford a PC, nor can they afford the monthly charge for personal internet access. So instead, there are public internet places just about everywhere, and people can pay very cheap rates (one or two soles per hour) for access. After our drinks, we headed to another restaurant: De Oro's S.R.I. Craig and Carlos got Cristal beer, and I had Chilean white wine. We ate lomo saltado (beef mixed with red peppers, onions, and french fries, with white rice on the side). It was delicious. Here we were first introduced to Carlos' love of picante, and we mixed it into our food for a spicy treat. We had a great conversation with Carlos about U.S. and Peruvian politics, Peruvian society, etc. It was quite enlightening. We left around 10:15 to go back to the hotel. As we left the restaurant we could see that there was a party later that night that was being set up. We spoke to Carlos about the closing time of bars in Boston, and he laughed and said that in Peru, parties START at 2 a.m.