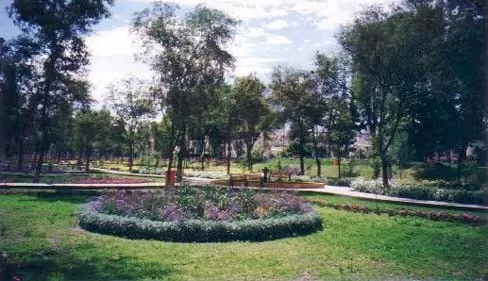 We got up at 5:30 and finished consolidating our luggage. We then showered and headed downstairs for breakfast. Vidal met us in the lobbby at 7:15. We left our extra bags in storage at the hotel. We met our driver (named Carlos) and he drove us to Pisac. We took a several hour hike through the Inca and pre-Inca ruins which exist there. The stonework was beautiful. We hiked up a trail in the mountains. As the day progressed you could feel warm breezes blowing up the side of the mountain from the valley below. Aha, these must be the updrafts that the condors catch when they fly. It was amazing just how warm these breezes were. We took a picture of two local women with their babies whom we met on the trail. We met Carlos at the van and then drove to the center of Pisac, where they have a huge market. We got woven water bottle holders for 3 soles each. Craig got a Cusquena T-shirt for Steve and one for himself as well, for 10 soles apiece. We entered a courtyard where there was a stone oven and a woman was baking fresh empanadas (dough containing tomatoes, onion, cheese, and oregano). Vidal bought one for each of us. They were delicious. Craig bought himself and Vidal another one, as a fresh batch was coming out of the oven. Then we tried chicha morada, a purplish black drink made from black corn, lemon juice, and spices. A woman had a bucket of it. She rinsed off some glasses in a bucket of water, and took a ladle-full of chicha morada out of the bucket. I was a bit apprehensive about what a purple corn drink would taste like, but it was delicious. It tasted almost like grape juice. We swilled it down. There was a traffic jam and Carlos couldn't get the van out, so we stuck around for a while longer. We bought some water and snacks in a little bodega and then resumed walking through the market. We saw women selling many different varieties of corn, grain, vegetables, etc. When Carlos was able to free the van from the gridlock, we drove to the town of Urubamba. We passed houses which had two tauritos and a cross on the roofs. Vidal explained that these were put up to keep missionaries away (i.e. expressing that the occupants are already Catholic). We saw more crosses than tauritos, though, as apparently local kids use the ceramic bulls as slingshot targets. On the way to Urubamba, we passed a religious procession. People in the street were carrying ornately decorated crosses, and there was a band playing bugles and cymbals. We ate at a nice restaurant. Again, it looked like nothing but a gate from the outside. But once you entered, it was a gorgeous compound with outdoor and indoor tables. We ate outdoors under a tent. There were llamas, macaws, and a Peruvian band. We ate a lunch buffet including tomatoes, cucumbers, avacado in a strawberry sauce, a hot cereal made of lupin seeds, chicken, potatoes, and pork stuffed with cheese, ham, and honey. It got kind of crowded, as just about every bus passing through stopped here to eat. It was nice, though. For dessert Craig had Jello and I had a piece of chocolate cake.
After lunch, we drove through the center of Moray. It was around 1:30, and school had just let out. There were many schoolchildren in their uniforms crowding the streets. Streets are very narrow (only room for one car) and the children started racing the van and running after us. They were smiling and shouting, and some of them even grabbed on to the bumper. We weren't sure quite what was going on, but figured the kids were just playing. Carlos pulled over and Vidal opened the sliding door of the van, and kids started piling in. They were sitting on every available surface (except an entire vacant seat that held nothing but our pack. They were very respectful of it. Only when Vidal repositioned it did they take advantage of the empty space and sit there). Carlos started to drive and the kids were ecstatic. We still weren't sure why. Was a car ride this much of a treat? What was going on? We counted, and there were 13 boys and 1 girl who had boarded the van. They were all happy, and Vidal started to ask their names, ages, and what grade they are in. The boys ranged in age from 6 to 14, and the girl was 9. It turns out that they all live in the mountains. They get up at 4 in the morning to begin their 2+ hour walk to school, in the dark. Often their parents discourage them from going to school at all, as they would like them to stay home and help in the fields. But the kids are determined, and despite all of the personal sacrifice involved, they go to school each day. When Vidal has room in the van he will give kids a ride up the mountain to save them from walking. It is very steep and warm, and the kids wear multiple layers of sweaters with the school uniforms. Some of them don't usually get home until 5 p.m. So it made sense that they were so happy. And what a nice guy Vidal is to provide them with this opportunity. It was amazing. Such an impromptu thing that became such a highlight of the trip. These children were so friendly and happy, and they are so determined to value their educations...it really makes you understand how much we take for granted in the United States. We drove with them for at least fifteen minutes, up and up and up. When we got to our destination, they got out. They said gracias to Vidal. (They speak Quechua and some Spanish). We introduced ourselves in Spanish and told them our ages. They practiced saying our names and waved goodbye to us. Vidal took us on a hike through structures that were used as herbal laboratories for the medicine men of the Incas. These were terraces constructed in concentric circles. The center of the cirle was the lowest down. The terracing used to create microclimates, so the medicine men could experiment growing different herbs in different conditions. A shaman and some patients were conducting a ritual there. We saw three of these structures (first the largest, then the medium-sized one, then the smallest) and met a burro on the path. Through much of our hike we could still see the silhouettes of the school kids standing up on the ridge. Eventually they began walking again. In the distance we could see snow-capped peaks and mountain glaciers. There was barley growing in the foreground and it looked beautiful.
We drove back down to the center of Moray, and passed some other schoolchildren who were still walking home up the mountains. They all waved and smiled and said "Hola." Then we drove to the Maras salt mines. We had never seen anything like this before. It was amazing. There were countless terraced pools which were glimmering white in the sun. Salt water from within the mountain flows through a series of channels and can be diverted to various pools. Once the pools are full, they are left until the water eveporates and leaves nothing but salt behind. The mines are communally run. The inhabitatnts of the town take turns working there, and they share in the proceeds from the sale of the salt. We walked along a trail in the midst of the pools. We tasted some of the salt. It was salt alright! Vidal jumped into what he thought to be a dry pool, but he misjudged it and ended up getting his boots muddy. It was weird for Craig and myself because you would be walking on a narrow trail covered with a crystalline white substance. We kept expecting it to be slippery (like snow and ice), and we couldn't get past that. At the end of our 1.5 hour hike, we walked back to the van. Craig and I touched the waters of the Urubamba.
Carlos drove us to Ollantaytambo. We checked into our hotel and met Vidal's sisters, who were nice enough to make the 1.5 hour trip from Cusco to drop off our Machu Picchu tickets. It turns out that since the office had been closed the night before when Vidal had inquired about Inca Trail tickets, we had not been able to get the permits (which require 36 hour advance notice). Carlos drove us a couple blocks to the archaeological ruins, and then drove Vidal's sisters back to Cusco. We arrived at 4:45, and the ruins were supposed to close at 5. They told us we had 15 minutes. We saw a fountain and then climbed up the many many stairs to the top of the ruins. We had a great view of the other mountains, including the Inca face in the mountain, as well as a face which looked more Spanish. There were colcas in the surrounding mountains as well. There were huge stones which had been carved very precisely. They had floated the stones across the Urubamba from the quarry, and had then pulled and used a system of ramps to get them up the mouintain and into place. We sat on a carved stone bench and looked at the stars. This bench had been used by kings and architects/engineers to look out over the city. The old part of the city is shaped like an ear of corn, with larger city blocks near the center of town representing large kernels at the base of the ear of corn, with blocks getting smaller and smaller as they extend outward. The moonlight was so bright after the sun had set that we cast a shadow. It was so peaceful (except for the occasional dynamite blast that shook the mountain as road construction was done). We walked down the stairs at 6:15 in the moonlight. There was a huge stone at the bottom which contained three grooves which was apparently used to grind and smooth other stones. Earlier in the evening local kids had been using it as a slide. After leaving the ruins we bought some snacks and walked around the Plaza de Armas. It is a small city, and there were lots of people out and about, buying meals from street vendors. We ate dinner at a restaurant right off the plaza. Craig and I got a pizza. We had been seeing them everywhere and thought it was a really touristy thing to eat, but they looked good and we felt as though we had tried just about everything else. We got chorizo and ham on a thin crust pizza with very little sauce and lots of cheese. It was very good. Vidal had lomo saltado, which we tasted. We were back at the room before 8. I tried to change my dead camera battery, but realized I had brought two extra batteries for my old camera, and they didn't fit this one. Stupid! This is a very small town, and I didn't even know if they would have lithium APS camera batteries. I went to the lobby and luckily Vidal was still there (making reservations for tomorrow morning's train). I told him our plight and he gladly walked the two of us to the Plaza de Armas. We found a shop that sold camera supplies (two camera batteries, a couple of cameras, and several rolls of film), and they had one and only one battery of the right size. Hooray! We went to bed shortly after 9, and as soon as we got under the covers we began to hear drums. This was soon followed by bugles...and then fireworks. Some sort of festival tonight!