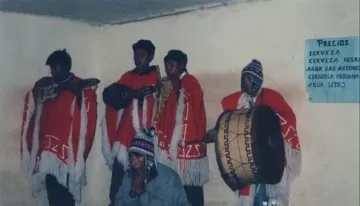 Carlos' words about parties echoed through my head as the thumping of amplified live music reverberated through our room and bed. I looked at my watch. 2:10 a.m.. Carlos wasn't kidding! Between that and the the beeping horns of the traffic, it wasn't a terrific night sleep. We got up at 6. Our "wake up call" came at 6:20, as a hotel employee knocked on our door. We were quite tired at first but quickly recovered. We threw on some clothes and went downstairs to meet Carlos for breakfast. We ate fresh bread and jelly and drank orange juice. We were allowed to leave our luggage in the room while we went out sightseeing, which was very convenient. We took a bus to the Pisco port. A local guide, Manuel, was on the bus with us and about 12 other tourists. When we arrived at the port, vendors swarmed the bus, reaching in and trying to sell us hats, film, etc. We didn't have hats, and the sun was very strong. A kid named Martin (whom Carlos said looked like St. Martin, a popular saint in Peru) offered us hats that had an embroidered "Islas Ballestas, Paracas, Pisco, Peru" sea lion logo for 10 soles each. We bought them from him gladly. We went to the bathroom in a local restaurant (which only provided recycled toilet paper. Best to bring your own. The toilets also didn't flush and the woman had to flush them by dumping water down them) and then waited for our boat ride. There is a fish processing plant nearby, and it produced an unpleasant odor that we could smell from the shore. Once we got into the boat, however, we could no longer smell it. The ocean was calm and the weather was around 75 degrees and sunny. The breeziness of the boat ride felt good. The Islas Ballestas (a.k.a. the Little Galapagos) are about 25 km from the Pisco shore. "Ballestas" means "bow", and it is so named because there are many natural arches in the rock formations. You can't dock at the islands, as they are protected as a guano collecting facility, but the boats can drive by. On the way out to the islands, we passed the Candelabro, a large pattern in the sand on the side of a mountain that has been there for many years. Noone knows why it was made or who made it, though its image has been likened to a candlebrum or a mezcal-producing cactus. The reason that it has survived so long is that it never rains in Pisco. Manuel saw his first substantial raiun at age 22 while visiting Cusco. Also on the boat ride out to the islands we saw at least 4 bottlenosed dolphins playing in our wake. Once we got to the islands we saw lots of species of birds: Peruvian boobies, Inca terns, turkey vultures, and gulls. We saw rocks literally covered with sea lion females and pups. When pups make noise, they sound like lambs bleating. Adult females sound more like Chewbacca. We saw some caves where some of the sea lions live. Vampire bats also inhabit the caves, and feed on sea lion blood. There are about 4,000 sea lions there, down from 8,000 prior to the last El Niño. El Niño has devastating effects to some wildlife, but can help others (e.g. scallops flourish after El Niño because all of their major predators die).We saw inedible spider crabs clinging to the rocks. We saw several Humboldt penguins. There are only about 100 in Peru, and they face extinction. When the Ballestas were first harvested for guano, it was done in a very environmentally unfriendly way. The penguins create nests in the guano, so their homes were completely wiped out. Now the guano is collected in a more environmentally friendly manner, so that the penguins can continue to live there. We saw the maternity beach where several male sea lions impregnate the females. Sea lions were playing in the sea and being washed up onto the shore with each wave. As they hit the shore, the sea lions already on the shore would start barking at them immediately.
We got back to shore about 2 hours after we had departed. Then we hopped into a car with Carlos, Manuel, and a driver. We drove for about 15 minutes to the Paracas Reserve. There was a small museum outlining the biodiversity of the area. Carlos told us that they had had problems with litter on the reserve, and had instituted a program through which Peruvians could pick up the litter and for every so many plastic bottles they collected, they could trade them in for a tee shirt. This worked very well, and helped to raise awareness about the dangers of pollution. We went into the Julio C. Tello Museum, which had some great anthropological artifiacts from the area. As we entered the courtyard there we saw a small monument, a cross, and some fresh flowers. Manuel told us that it was a memorial for Frederik Engel, an archaeologist who devoted his life to studying Peruvian artifacts and history. He had just died, and his ashes had been scattered there...yesterday. The plaque even states "1908 - May 11, 2002." Unreal! There were mummy bundles inside of the museum. There were also very old textile pieces. We saw a cradle which was used to deform babies' heads into different shapes (depending on social class/profession). More conical heads belonged to warriors, as they would put some sort of protective covering around their heads in battle. There were actual deformed skulled in the museum. It was amazing...like the ConeHeads...for real. There were also skulls that had undergone surgery ("skull trepanation") for tumors. Mescaline and chicha (corn alcohol) were used as anaesthetics. There is debate as to whether the skull deformation was in part responsible for some of the tumors these people developed (45% of the pre-Inca skulls found in the Paracas area had had this kind of surgery). You could actually see places where the bone started to regenerate and heal itself around the wound. By studying the skull regeneration, they have determined that some individuals lived up to an additional 20 years following the surgery. Wow!! After marveling at the museum, we drove through miles of desert landscape (no "proper" road, just tracks from other cars, and nothing else in sight). It was like another world. The desert is not made up of sand as we had pictured...it was more of a hard rock crust that was the color of sand. Almost like a layer of sandstone. We saw the Catedral, a gorgeous stone formation on the Pacific Ocean. There was even a fisherman precariously perched on an edge. The contrast between the desertscape and the seascape was fantastic. There were turkey vultures, and Manuel told us that sometimes when he has been walking there they would circle around him, trying to make him dizzy. Their hope is that he would plummet over a cliff so that they could then eat him. We then drove to a beach where there were some little food stands and small fishing boats. This was Mother's Day (in U.S. and Peru), so nobody was really fishing that day. Carlos bought some Dore crackers which were like a cross between saltines and butter crackers. They were delicious! We touched the Pacific Ocean. The water was a bit warmer than at home, but still kind of chilly.
We returned to Pisco for lunch at around 2:00. We ate at the same restaurant we had been to the night before. We had ice cream as a first course, as Carlos wanted to make sure that our pallettes were clean and we could fully appreciate the flavor. My kind of guy! The ice cream had sort of a sorbet consistency and was reddish-orange in color. It was made with a fruit called lucma, and it was delicious! We had cebiche mixto (mixed raw fish including octopus and kingfish) marinated in limon that came with corn (huge kernels) and a slice of sweet potato. We had wanted to try cebiche last night, but Carlos told us that it is more of a lunch food. It was very acidic but good. I really liked the octopus. I had a pot roast (with slices of carrot in the middle of the meat slabs) with white rice and a slice of potato. Craig had beer and Carlos and I had Inca Kola. This is where we learned about the concept of "yapa". I was trying to translate the Inca Kola bottle and didn't know what "yapa" meant. I asked Carlos and he said that it means the little extra. Like when you buy a dozen apples at a market and ask for "yapa", and they thorw in another apple for free. He said that tourists don't usually know about yapa. He took tourists to a market once and the tourists asked for yapa, and the seller was quite surprised, as if Carlos had given their local secret away.
We went back to the hotel and showered. We met Carlos at 4:00 and took a taxi to the bus station. There was a mute guy working at the bus station whose pen ran out of ink, so I gave him one of mine. The bus was scheduled for 4:30, and arrived around 4:40. We checked our bags and were seated on the upper deck. The snack was a chocolate cupcake and a small (2" X 2") ham sandwich, accompanied by a hard candy and mate de coca. The journey to Nasca took 3.5 hours. It got dark around 6, at which time they turned off the interior lights. We drove through Ica, and (probably due to the fact that it was Mother's Day) there were many flower stands on the side of the road doing a lot of business. When we got to Nasca it was sprinkling. We got a taxi that took us to the Hotel Della Borda, which is a few miles from the center of town. It's near the airport, where we planned to take a small sightseeing plane the next morning, so the location was very convenient. It took us about 10 minutes to get to the hotel. The hotel is gorgeous. It used to be a farm hacienda, but has been converted into a hotel compound with swimming pool, restaurant, bar, pool table, courtyards, etc. When we went to our room it was quite dark. There was a lagoon in front of our room with a little island in the middle. It was devoid of water and had no barrier around it, and in the dark it wouldn't have been too difficult to fall in. We dropped our stuff in the room and then met Carlos by the pool. Juan Carlos, the jack of all trades of the hotel, made Pisco sours for us. Then we played two games of pool in the outdoor bar area. The pool table had about three balls missing, two duplicate balls, no rack, no bridge, and one cue. The surface was made of plywood or something, so it made for a very unpredictable game. Some shots caused a ball to do a spontaneous U-turn. It was kind of a combination of pool and golf, because for every shot you had to read your lie. We played getting any balls in that we could (8 ball has no special significance) and the one with the most balls at the end is the winner (and if you scratch you have to put one back). The radio was tuned to "Radiomar Plus," a station that played salsa and merengue music, occasionally interspersed with the "beep beep" of the roadrunner. The station had a very distinctive announcer. Carlos taught me a few salsa moves. He is a dance teacher as well (and also knows Shiatsu massage!). What a catch...and he's single, ladies! We had some deep conversations about marriage, religion, etc. We looked at the stars (first glimpse of the Southern Cross!) and then went back to our rooms at around 12:15.