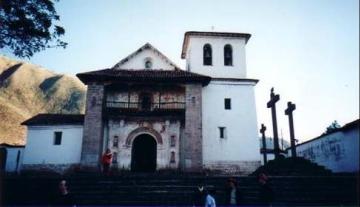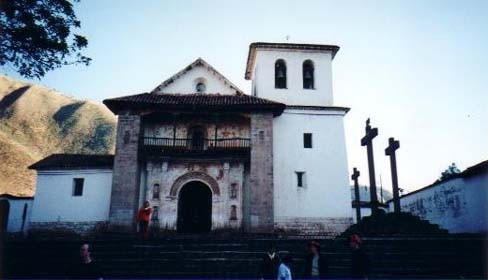 We woke up around 6:00 (prior to our alarm). We got our things together to prepare for our flight to Puno this afternoon. At 8:15 we went to the dining room for continental breakfast, which was included in the trip cost. We opted for the additional cost of the "American" breakfast, as we didn't know if we'd find as place to eat lunch. We had bread, butter, jelly, coca tea, ham, cheese, orange juice, and scrambled eggs. Although my appetite had been less in Colca Canyon (a symptom of altitude?) it was back to normal here. At around 9 we set off on our own for the first time since our arrival in Peru. We found public internet access for 1.5 soles per hour. We each got a machine and pretty much as soon as we started typing, the place lost its connection for a few minutes. When the connection came back Craig's machine was very slow. Turns out it was trying to download a Limp Bizkit mp3, and once he disabled that, it was much more reasonable. We read some mail and sent some mail home. While we were still logged in, we got some mail from Steve and Jared, which was nice. It felt good to have some contact with people back home. We spent about an hour and a half at the internet place. On our way back to the hotel, we stopped at a bodega for some water and lucma ice cream cones. Yum! They were very refreshing in the heat. Then we walked through Arequipa's gorgeous park and dipped our hands in the cool waters of a fountain. Then we walked back to the hotel.
We had gotten a message saying we would be picked up for the airport at 2:15. It was 11:30, and we needed to vacate the room by 1. We got back to the room (which had been made up), grabbed a beer and fanta out of the minibar, and headed out to the courtyard, which was right outside of our room. We saw a hummingbird. We checked out of the room at 1:00 and then ordered lunch in the courtyard. Lunch was a grilled chicken sandwich with tomato, lettuce, and mayo. It was delicious! Anna Maria called and talked to Craig, to make sure that we had gotten the message about the pickup time. Craig paid our bill and Anna Maria, Patricia, and Señor Andreas arrived to take us to the airport. We were happy to see Señor Andreas. When we got to the airport, Patricia took care of checking us in, and then she left. Anna Maria stayed with us. We bought some stamps and mailed some postcards. We went up onto an observation deck to overlook the airport.We could see Misti and it had a circular ring of smoke around the top. Our flight time had changed from 3:15 to 4:15. Our plane was a 727, and there were no assigned seats. They gave us a newspaper, and we read as many of the Spanish news stories that we could during the flight.
We landed in Juliaca around 4:45. The baggage claim had all kinds of dolls in Peruvian dress, and there were various native costumes on display throughout the airport. A Peruvian band was playing (Inkamaru), and we bought a CD from them. Drivers were circulating in the baggage claim area looking for their passengers. Noone seemed to have our name, so we went outside. There were some drivers waiting there. We were very excited to meet our new guide, Vidal. We saw a driver holding a placard that said "Vidal". We asked if he might be looking for us as well but he didn't know. We spoke to one nice girl who spoke English and noone seemed to know what had happened to Vidal. She found us a driver who would take us the 45 minute ride from Juliaca to the Q'ElQatani Hotel in Puno. We got into the van hoping we were doing the right thing. This was the first time we had to negotiate such a transfer on our own. It got dark on the ride. We reached the hotel, and we wondered if we should pay the driver, but he left before we got a chance, so I guess not. We checked in and told the woman at the desk that Vidal was not with us. She was surprised and called Milagros, the trip coordinator in Lima. They gave us coca tea and we sat in the lobby. Not five minutes later, a young woman came in and told us that she would pick us up at 8:15 the next morning. We explained that Vidal hadn't arrived. She asked if we wanted to be taken to the docks by tricycle or bus. We didn't know if we were supposed to make this decision ourselves, but in Vidal's absence, we chose tricycles. The woman worked for a third party company called Edgar Adventures which coordinates the Titicaca trips. She recommended a restaurant around the corner for dinner. We went there (Hero's) because it was close by. Craig got a meaty alpaca steak, fried potatoes, beans, carrots, and cauliflour. I got spaguetti bolognese which was kind of salty and didn't have a lot of sauce. I enjoyed it, though. Craig got two Cusquenas (grande) and I got two orange Crushes. The place was nice but touristy, with only one other couple there (also American). After dinner we had a nice chat with them: Chip and Marie from Colorado. We went back to the hotel. Still no word on Vidal, so all we know is to be ready at 8:15 in the morning.