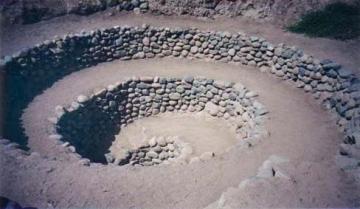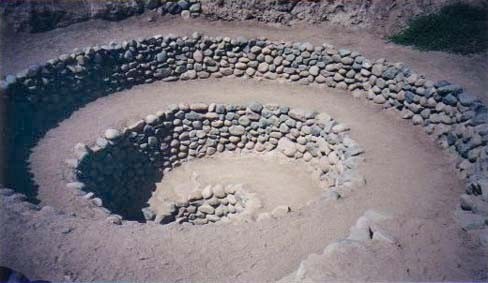 We woke up at 6:45 and ate a continental breakfast in the dining room (bread, ham, cheese, juice, coca tea, and crackers). Still no word on Vidal. At 8:15 a woman from Edgar Adventures showed up to collect us. We rode on the front of a tricycle to the docks. The roads are narrow and busy, so this was an exciting ride. When we got to the dock we bought some bananas, apples, and sugar as a gift for our host family. It cost 7.50 soles. We got on the boat (a wooden boat where you could sit either inside or outside). There were about 20 other people. We met the Edgar Adventures guide (Henry) who would take care of us for the next couple days. After 45 minutes in the boat, we arrived at he floating Uros Islands. These are man-made islands made or tortora reeds. We landed on the island of Santa Maria. Some boys were making kites out of reeds and plastic bags and flying them in the breeze. We got to sample a taste of totora reed, which is eaten as a source of iodine. It tasted like a water chestnut. Houses on the islands are also made of tortora reeds, as are their small boats. We bought two handmade embroidered tapestries of the Uros islands for $20 U.S. The woman threw in two necklaces as yapa.We rode a reed boat to one of the other islands. We were amazed at how buoyant and stable the boat was, even though we were all packed in, and people were sitting mainly on one side of the boat. We passed the island that contained the school. Once the school island floated away, and they needed to go after it in boats and reel it back in. We stopped at one of the other islands, where Henry and our boat met us. We bought a reed boat and two reed boat Christmas ornaments for 15 soles. Then we got back onto our boat for the journey to Amantani Island. We ate a banana on the boat while Henry told us some facts about the islands and Lake Titicaca.
We arrived at Amantani around 2:00. We had brought all of our stuff with us, which was a bit of a mistake: two large backpacks and a carry on bag. We hadn't realized that we'd need to hike with all of that stuff...Amantani is a steep island. If we did it again, I would leave some stuff in Puno and take only the essentials. We hiked up a steep slope and there, waiting at the top, were a bunch of women from the village, waiting for us. They were all dressed in traditional clothing: black embroidered veils, colorful skirts with petticoats, white blouses with bright colored embroidery, and woven belts. On their feet they wore rubber sandles made from old tires. Henry matched each of the tourists up with a local woman. We were matched up with Valeria. She grabbed our carry on bag, slung it over her back, and scurried up the hill. Locals offered to help with our luggage, but we didn't want to make them carry our packs. The altitude was very high here (Titicaca is the highest navigable lake in the world) and it was a steep climb in the hot sun. Eventually the women of the island ran off ahead of us tourists, so that they could start cooking lunch. Henry walked us to our houses, with plenty of breaks for water and rest.
Valeria's house was very nice. It had a courtyard where potatoes were drying on a tarp in the sun. There was a main house, a kitchen, and a storeroom. Our room was on the seond floor. We were expecting rustic conditions, but it was great! There were three twin beds, lots of warm blankets, a light, and a radio (Valeria and her family are some lucky ones on the island who have a solar panel). The door was very short. The threshold was about 8 inches above the floor, and the door was only about 4 feet tall. I hit my head just about every time. Henry stopped in to make sure we were settled in. We used the outhouse (which was very clean and fresh) and then stood in the courtyard. Valeria speaks Spanish (not all Amantani residents do; most only speak Quechua) and she beckoned for us to enter the kitchen.
The kitchen was a small structure about 8x12 feet, made of adobe with a ridge vent in the roof. It was dark inside and it took a minute for our eyes to adjust. I heard a squealing sound and I didn't know what to make of it. Was she boiling something alive? But she gestured and said "Cuy." Ahhh, guinea pigs. They live in the kitchen (and are occasionally cooked on special occasions). When they saw us they scurried under the stove, where they hide for warmth. The stove was a piece of iron that had a place for a fire in the bottom and several holes in the top, where pots and pans could be balanced with shims. We sat on a bench along the right hand wall of the kitchen, and Valeria sat on a stool made out of a tree stump. When the cuy were comfortable with us they wandered out and ran around our ankles. They were chattering profusely. Although lunch was nearly ready, Valeria was peeling potatoes at lightning speed, making the coil into one long peel. These would be for dinner later in the day. She was great at multitasking. She cut up tomotoes and onions. She was cooking a soup on the stove, and she picked up the cast iron pot by its handles with her bare hands. She gave us quinua and potato soup which was delicious! She followed that up with a full bowl of boiled potatoes and hard boiled egg. She made a fresh salad of onions and tomotoes, and she squeezed some limon and sprinkled a little salt on top. It was delicious, but I think the altitude affected my appetite and I couldn't eat it all. She then made mate de muna. We told her we were familiar with muna and had breathed it to help with the altitude and she was happy. It was a minty tea but not overpowering. She simply threw a sprig into boiling water. She fed the cuy (there were 5 adults and 2 babies) some grass, and we happily watched them eat. Valeria let Craig borrow a hat so he wouldn't be cold.
At 4:00 we headed to the small football field. One of her friends had just finished knitting a hat and Valeria grabbed it and lent it to me. A few people played football, and then we went for a hike with Henry (just the tourists, the women stayed in the village). We had the option of hiking Pachatata (which all of the other tourist groups were doing) or Pachamama (which was higher). The tourists in our group who decided to do a hike (around 12) all chose Pachamama (named for Mother Earth...it is a very sacred mountain). Craig and I took it slow and easy due to the altitide, but we eventually reached the top There were arches along the way, and if you step with your right foot first and make a wish as you pass through each, your wish will come true. There was a gorgeous view out over the lake. We kept forgetting that it was a lake; it looked as vast as an ocean. We could see the snow capped Bolivian moutains to the east, glowing red with the sunset. We climbed a small tower at the summit, and saw a temple. We hiked back down in the twilight and then the light of the almost-full moon. A woman saw us and knew we belonged to Valeria, and called for her. She showed up right away to lead us back to the house. We rested for a few minutes in the room and then headed to the kitchen with our bag of presents. Valeria's husband Elias was back from a day of working the fields, and he spoke to us in Spanish. Both of them were very happy with the presents we brought, and they thanked us and shook our hands. Like Valeria he was very personable. He asked us where we were from and what we did for work. We replied "computadora" and he smiled and nodded. He told us that he works in agriculture. He asked if we had kids. We said no, and he laughed. He and Valeria have 2 kids, Melissa (10) and Raymi (2), but they were at Valeria's mother's house (probably because we were sleeping in their room). He asked how long we had been married and I believe he said they have been married for 12 years. Valeria and Elias were quite amused that we had eaten cuy on our trip. And when Craig identified quinua in the soup, Valeria was quite pleased. Carlos, you taught us well! Thanks for everything! Valeria then served dinner. Huge bowls of quinua and potato soup (that tasted different than the one we had eaten at lunch), and large elbow pasta with rice. There was so much food. She then gave us muna tea, and we all watched the cuy eat. They were quite entertaining.
After dinner, Valeria took us to our room armed with a big pile of clothes. She dressed us up in their traditional garments: Craig in a pancho and wool hat with ear flaps. Dressing me was a bit more difficult. There were so many layers and they all needed to be fastened just so. Valeria was very helpful, but as she is much shorter than me, she had a hard time reaching to fasten a lot of the ties. It was quite funny and we all had a good laugh. I wore a petticoat, flouncy red skirt, beautiful white blouse with bright colored embroidery, a woven belt wrapped around my waist several times, and a black veil with bright colored embroidery. It was wild! We took a very short walk to their rec center (a long rectangular building with no electricity; someone kept pumping a camping lantern and hung it on the wall to provide light). There were two bands, one on each end of the room. They took turns playing. There was a woman selling beer, Coke, and water. It was neat to see all of the tourists dressed up in traditional clothes. As soon as we got there, Valeria grabbed me and taught me a traditional dance called the huayno. You hold hands, stand about two feet apart, and shuffle your feet and twist your hips so that your skirt flails out. Then you extend your arms out to the side (still holding hands) so that your bodies are closer together and you spin clockwise for four beats, counterclockwise for four beats, clockwise again for four beats, and then counterclockwise again for four beats. It was a lot of fun, but the songs are very long. Combine the altitude with the fact that we hiked a mountain, had very full bellies from supper, and were wearing many layers of clothing, and we tuckered out sooner than we normally would have. Craig got a Cusquena beer and he bought me a Coke. We sat down after the first dance to have a drink and catch our breath, but Valeria grabbed Craig right away and started to dance with him. Then Henry grabbed me. He was a very grandiose dancer with exaggerated movements. I hadn't even had a chance to catch my breath from the last dance, and he was spinning me all around. I almost careened into some of the other tourists on the sidelines. Then everyone on the dance floor got into a big circle and started running around the perimeter of the room. As we were all holding hands, some of the locals ran really fast and ended up whipping the rest of us around. It was fun but quite tiring, and the song seemed to go on forever. After that we each sat out for one dance to recover, and then we took turns dancing with Valeria. She was very eager to show us a good time, and didn't want us to have to be sitting idle for one minute. Craig offered Valeria a drink. She seemed kind of embarrassed and asked for a cerveza negra. Craig got it for her and she was all smiles and giggles. She shared some with her friends. At one point when Valeria was dancing with Craig, another girl asked me to dance. And then when I was dancing with Valeria, another girl asked Craig to dance. The tourists and their host families started leaving to go to bed.
Eventually Craig and I were the only tourists left. Craig asked Valeria for the last dance, and Henry playfully accused me of not having danced at all (couldn't he see that my face was beet red?) and said that I would have one more dance with him. He wore me out! Henry shared some beer with Craig and we got our pictures taken with him. He said that he would stay up drinking with the locals for hours. We would stay to have a few more drinks, but we knew we'd be obligated to dance more, and we just didn't have the energy. We went back to Valeria's house and said goodnight. Glad we brought our flashlight, as we never would have made it to the outhouse otherwise. We went to bed around 9:30. I tried to write in the journal, but I had not one ounce of energy left, and I couldn't get my hand to work, so I gave up. We slept in separate twin beds with our travel sheets with three wool blankets each. We were quite comfy. We fell asleep at 10.