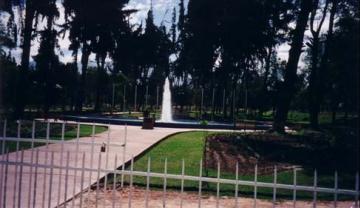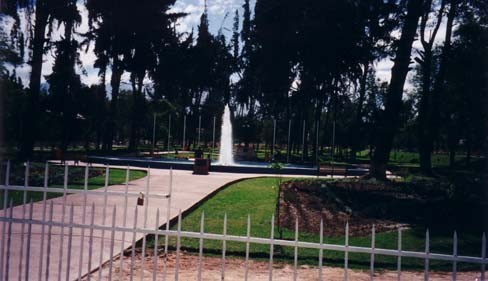 We woke up at 6:30 and met Vidal in the dining room at 7 for our continental breakfast (ham, cheese, tea, juice, and bread). Then Vidal took us for a 15 minute walk around Puno. This was Monday morning, and it was a diffferent place. There were businessmen, schoolchildren, etc. walking the streets, buying things from street vendors. Vidal bought some quinua con manzana (a hot drink of apples and quinua) and let us have a sip. It was very tasty and hearty. Our bus arrived at 7:30. It was a single decker with a bathroom and comfortable seats. There was a Dutch couple, a Danish man, a driver, Vidal, us, and a guide named Marita. At around 9:45 we stopped at the Pukara archaeological site. There was a nice church off in the distance. This is a town where small cramic bulls called "tauritos" are sold. We saw a sunken plaza where human sacrifices used to be performed. There were underground galleries that have since been blocked off due to accidents. We got back onto the bus after a short tour. The bus pulled over briefly in Ayaviri. Marita jumped out and came back with a sample of lamb meat. She let us all sample it. It was delicious, tender and flavorful. I thought it tasted like rib meat. We stopped in La Raya to take photos of the snow-covered mountains. There were people selling items, and we bought 4 bananas. It was too touristic, though, with little kids dressed up (hugging baby alpacas) holding their hands out for tips.
A little after noon we stopped in Sicuani for lunch. It seemed like the middle of nowhere, and the restaurant compound was walled in. The bus backed in through a tiny gate, and we were suddenly in a nice outdoor oasis with lush vegetation and alpacas. We ate outside in the courtyard. We had a nice buffet lunch including beef stew, carmelized chicken with onions and green beans, tomatoes, beans, bread, dried sweet potatoes, dried bananas, rice, and julienned potato. Craig got a beer and I got a Fanta. The waiter was goading the alpacas, getting them to spit. It was clearly a show for our benefit. There was a pudding for dessert that tasted like vanilla, but I guess it could have been something else. We had a nice conversation with the other tourists and Vidal. After that we drove to San Pedro to the Raqchi (pottery) ruins, site where lots of pottery was made in the Inca times. There were aqueducts, colcas (round storage houses), and a huge wall that was once part of a temple. There was a house for the Inca (which was only used when he visited; about once every ten years). On our way back to the bus, we visited some booths where women were selling pottery. I bought a red ceramic Andean cross necklace for one sol. Something interesting in Peru is that once you buy an item, everyone else in the market tries to sell you more of the exact same item. Suddenly fifteen women were showing me all of their collections of Andean crosses. We saw some nice ceramic plates with beautifully painted designs. We were tempted, they were 2 for 5 soles. But we had already bought a plate in Nasca. We offered a girl 2 soles for one, and she said no. So we walked away. All the other women tried to sell us similar plates for the same price (2 for 5 soles). When it was evident that we were going to board the bus without purchasing a plate, a group of women swarmed after us with plates. The original girl we had talked to agreed to 2 soles, so we bought one from her. Our next stop was Andahuaylillas. We saw the Saint Peter Apostle Church (the Andean Sistine Chapel). It was gorgeous. No photos were allowed inside, but they sold postcards. The outside of the church looked like nothing really special. Vidal pointed out that some of the stone blocks had obvious Inca carving on them: the Spanish had created churches with Inca stonework that they stole from temples, as well as Inca gold. The Inca stonework's presence made some of the natives more comfortable going into a Christian church as they were being converted to Catholicism.The ceiling of the church was painted in gorgeous geometric designs, and the wall was covered with frescoes (some of which have been damaged by earthquakes and moisture). The altar was decorated with 24 karat gold. There were lots of large religious paintings in ornate gold frames. It was originally a Jesuit church, but is now run by the Dominicans, who don't want to sink money into restoring it. There were also a lot of religious icons and figures throughout the church. It was gorgeous!
Then we drove to Cusco. We got to the El Balcón Hotel and had some coca tea (made with leaves) in the dining room while Vidal explained our options for the next few days. Although it wasn't on the itinerary, he said that we might be able to hike part of the Inca Trail if we wanted to. This sounded good to us. It is something we had wanted to do from the beginning, but we were unsure of conditions and how the altitude would affect us. Now that we were in Cusco, we were fine. Lake Titicaca had been much higher, and we felt perfectly fine in Cusco. Vidal would still need to get the permits and everything, but he thought it shouldn't be a problem, as we were trying to do it the day after tomorrow. We went to our room and started consolidating our luggage. If we were to do some hiking, we would take only one pack (Vidal would carry it). We would take the train to km 104 and hike the 2 day Inca Trail segment in one day. This is doable in one day. Usually the hikers stop at 2 p.m. one day and camp, setting out early the next morning so they can catch sunrise at the Sun Gate. We wouldn't get the benefit of the sunrise, but we could hike all the way from km 104 to Machu Picchu in one day, and then take the bus to our hotel in Aguas Calientes. Vidal went off to try to pull the permits, and then collected us at the hotel when he was ready. The street our hotel was on was narrow and steep, and its sidewalk was actually a series of steps. We walked to the Plaza de Armas, which contained two gorgeous churches and a fountain, all of which were brightly lit. The hillsides were dotted with light and looked spectacular. We went to an ATM (we couldn't get our normal ATM card to work, but we got a cash advance on our Visa), and bought some film and a postcard. The city was bustling. There were a lot of kids here accosting us, trying to sell postcards, so you couldn't stand in one place for too long. Once kid was actually hanging from my sleeve. We went into a music store and bought a Peruvian CD (the one they were playing over speakers in the store). We then went to the A Mi Manera restaurant, which is owned by Vidal's best friend Marco and Marco's wife. Marco's wife was there, and we got to meet her. We sat in a booth in a window niche that overlooked the Plaza de Armas.Craig and I shared meals. He got the alpaca stuffed with ham, cheese, honey and spinach. It was served with potatoes, veggies, and quinua. I got the lasagna bolognese, once again in its own little crock. I got a Pisco sour and Craig got a Cusquena. We had our first nice, long, in depth talk with Vidal. He is Quechua, and still speaks the language. He is married and has a one year old son. We really got to know Vidal that night. He is a great guy, and we got along quite well. We went back to the hotel at 10 and went to bed.