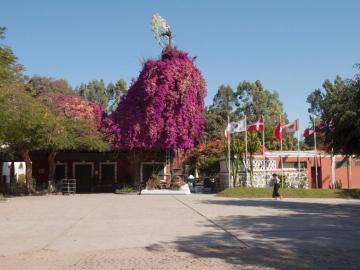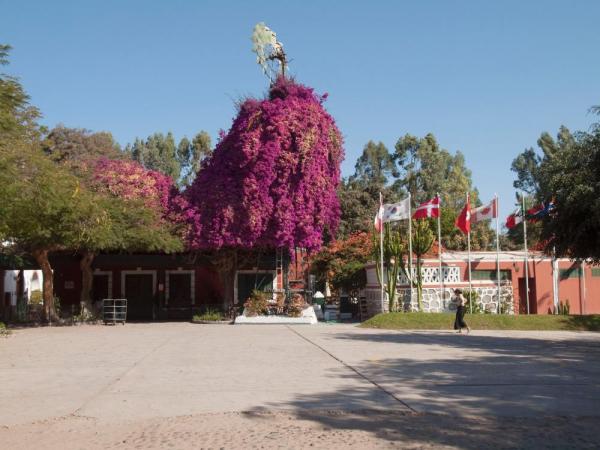 We arrived in Arequipa the next morning, checked into our hotel, and had a chance to shower and rest before meeting Carlos for a stroll through the old section of the city. This is a charming area characterized by colonial architecture and narrow cobblestone streets winding between buildings constructed with white volcanic stone. We soon experienced what would be a recurring theme in most of the cities and towns we visited—the Plaza. The Spanish explorers (more appropriately termed "treasure hunters") certainly deserve a lot of criticism for their harsh treatment of indigenous people throughout South America. However, the Plaza represents one of their more positive legacies. Most plazas are large open spaces often surrounded by important buildings such as churches, government palaces, etc. They typically encompass parks with gardens, mature trees and fountains. They are a welcome gathering place for the locals who enjoy visiting on park benches or carrying out business. In fact, we came across a group of men with old fashioned type writers. They represent Peru's version of Legalzoom.com. If you need a document such as a building permit, or any other legal paperwork, forget the lawyers! All you have to do is head over to the plaza and pay a small fee to have it typed out on the spot!
We stopped for lunch and had another opportunity to sample the local cuisine. Carlos loves pork and makes no apologies for it! In fact, he dreams of visiting the United States some day and feasting on southern barbecue! He introduced us to Chicharrones which consists of pork rinds fried in their own fat. I tried the Rocotos rellenos (stuffed peppers) which was delicious. Most dishes are served with potatoes of which there are hundreds of varieties, rice and corn. We quenched our thirst with Pisco Sours. The drink is made from a grape brandy, lime juice and egg whites blended with ice. It is very good and tastes like a marguerita.
After some shopping, we headed to an alpaca outlet. Peru is known for its fine Alpaca wool products and we had a chance to see some animals up close and get a general idea how the wool is processed, dyed and used to make sweaters, scarves and blankets. I thought the prices were very reasonable and we purchased several beautiful sweaters. For the most part, alpacas and llamas are docile animals. However, being members of the camel family, they have one nasty habit---they like to spit! We were warned that if you see their ears fold back, stand clear. In fact, at another alpaca outlet in Cusco, my wife was suddenly enveloped in a steamy cloud of saliva! You haven't really been to Peru until you have been spit upon!
That evening, our kids were exhausted and decided to stay at the hotel while my wife and I walked to Zig Zag restaurant for dinner. We had a chance to taste alpaca steak which was delicious. It is similar in taste and texture to veal. After a satisfying dinner at one of the best Peruvian fusion restaurants in the city we soon learned how reasonable the prices were. In fact, most of the upscale restaurants we dined at during our trip were cheap by American standards. A dinner for two including wine, appetizers and desert was typically less than $100!