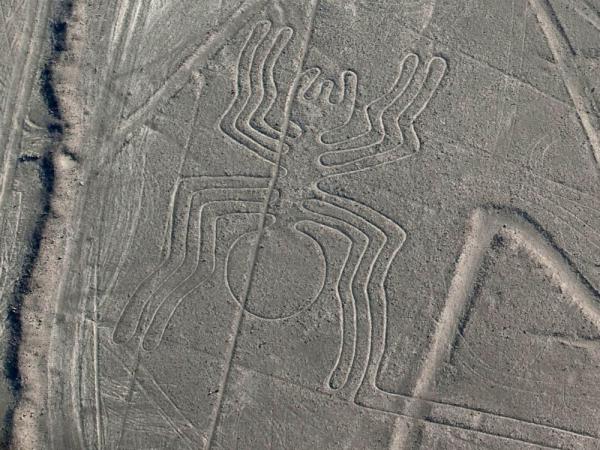 The next morning, we had a satisfying breakfast and then headed down into the Canyon. First stop, Cruz de Condor. These large endangered Andean scavengers have a wing span of ten feet and soar over the Canyon on the thermal updrafts. One particular spot attracts large numbers of birds as well as tourists in the early morning. What a spectacular sight! The birds appear to float above you, creating ideal opportunities for pictures. At one point, there appeared to be at least five large birds hovering overhead. This lasted about 45 minutes and then suddenly they disappeared.
One thing I find that sets Adventure Life apart from other tour companies is their ability to venture "off the beaten path", exploring places that the masses seem to overlook. We left the crowds of people behind and drove a short way down the road further into the Canyon. After pulling over, Carlos hopped out and announced that we were going on a short hike. We proceeded to walk along an irrigation channel lining the Canyon rim for about 1-2 miles, enjoying the spectacular scenery. Amazing terraces dating back approximately 1100 years or more, are visible all along the canyon walls. These create fertile areas for crops of potatoes, corn, barley, etc. In fact, many are still in use. Visiting in the dry season, we did not have a chance to see any green crops. Rather, the entire canyon radiated with a golden glow created by dry grass and plowed fields. Most of the farming is done by hand or with the aid of animals as there is no practical way for machinery to reach the remote fields perched on the steep canyon walls. By the time we had ventured back past the condor site, all the crowds had vanished along with their buses back to their hotels.
That afternoon, we traveled back to Chivay for a delicious lunch consisting of a variety of local Peruvian dishes. More pork for Carlos! We had a chance to stroll around the town and paid a second visit to a local vendor who sells a deep-fried pastry smothered with honey—my daughter is a big fan!