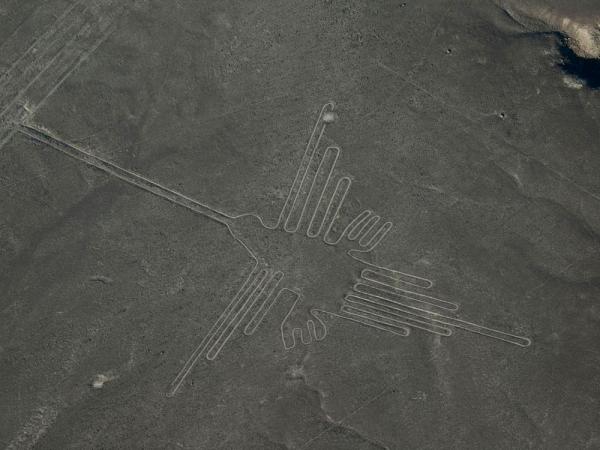 The next morning after breakfast, we were picked up in a private van for our drive to Colca Canyon. What is it with you Adventure Life People? Do you have a knack for connecting with nice people or are you just lucky? Our driver Miguel was great! He would serve as our private chauffer for the next three days. Although he didn't speak much English, he had a great sense of humor (which by definition is anyone who will laugh at my jokes). He is adept at driving anywhere, especially along steep, winding dirt roads and along railroad tracks!
The drive from Arequipa to Colca Canyon was one of the highlights of the trip. The road winds up the back side of Misty Volcano to what is known as the High Plateau. We climbed as high as 16500 feet before descending back to about 12000 feet at the Colca Lodge. Did you know Carlos is a "drug pusher" by American standards? Actually, coca leaves have been a staple part of Peruvian culture since before the Incas. Aside from being felt to hold spiritual powers, the coca leaf is used to stave off the effects of high altitude. We received an introductory course on how to prepare the leaves by wading them up around a piece of volcanic ash which serves as a catalyst to release the beneficial chemicals that prevent headaches and nausea associated with high altitude. The "wad" is placed between cheek and gum and as it moistens, you bite on it to squeeze out the juices. I must say that it did help with headaches but I tend to believe that the diamox that we took really worked as none of us had any problems during the trip.
The High Plateau is a large expanse of arid land that is perfect grazing environment for the Llama. My wife became fascinated with Vincuna, a wild endangered species of Llama which is believed to have the finest wool of all the species of Llama. We were able to view herds of Vincuna from a distance, grazing at the foot of Misty Volcano. Llama herds are tended to just like they have been for centuries by the indigenous highlanders. At first glance, one might think, "what a poor people". However, there is a grace and rhythm to their lives that we have long since forgotten. In fact , I believe that many of these people are much better off than the people that reside in the filthy squatter territories that surround the large cities like Arequipa. Highlanders migrate to the cities in search of employment and a better life only to find that they lack the education to compete. They often end up broke and eking out an existence with thousands of others in so-called "squatter towns" without electricity or running water. What little savings they had has long-since been spent and they are in a sense trapped. Don't get me wrong---the life of a Highlander is hard, really hard. Carlos' brother is a doctor and worked for a time in the Highlands. He discovered that the number one cause of death among children is hypothermia. The High Plateau is known for extremes in temperature. It is not unusual to see the temperature in the 70's during the day and drop into the teens or below zero at night. Considering that most of the indigenous people live in stucco houses without electricity or windows, it is a wonder that they can survive at all.
Peru has placed a priority on education. However, due to the vast distances, many children living in the Highlands struggle to travel to and from school. Our guide Carlos raised money and bought dozens of mountain bikes for the children of one school. The bikes cut the travel time to and from school by as much as three hours to about one hour in each direction.
We reached a fork in the road which marks the cutoff for Colca Canyon. The other road leads to Puno. This has become a popular rest spot for tourists. The store sells so-called "Triple Tea" consisting of coca leaves and two other local plants. It is delicious and quite invigorating. Towering above are large sandstone cliffs that have interesting wind-carved spires protruding from them.
After our short rest, we were off again and climbed over a 16500 foot pass before descending into the town of Chivay which is at the upper reaches of Colca Canyon. The Canyon is over twice as deep as the Grand Canyon at its deepest point. Chivay is a charming town with a lovely plaza. During lunch, a large crowd of people frolicked through the streets. It turned out to be a wedding. These people know how to party! In fact, we were told that the wedding party typically lasts for three days. The whole town participates and anyone who brings a wedding gift is welcome. As if to prove the point, we ran into the same people two days later still romping through the streets!
After lunch, we rode the van down into the Canyon and spied the Colca Lodge on the other side of a river. All I can say is Wow! The lodge sits on the edge of the river responsible for carving the Colca Canyon over thousands of years and consists of a series of cozy stucco and thatched roof cabins spread throughout the property. Water from natural hot springs feeds a series of pools that are available to the guests. I highly recommend a soak in the pools with a glass of wine under the stars at night!