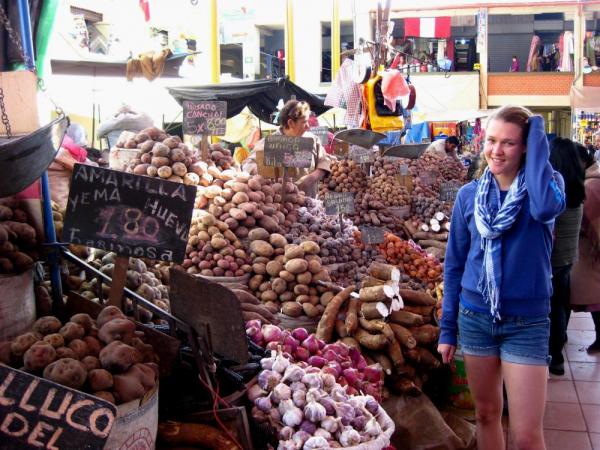 The next day turned out to be our most physically taxing and I don't know why, because all we did was ride in the van for several hours. Perhaps it was the up and down change in altitude as we again drove over the 16500 foot mountain pass. On the way, we pulled over and examined an area where hundreds of small potatoes were strewn over the ground. Carlos explained that the locals were freeze-drying them for storage. The technique involves allowing the potatoes to freeze at night and thaw during the day, allowing for the moisture to slowly evaporate. Stepping on them periodically to break open the skin helps speed up the several day process. The potatoes turn a pale white color when the they are finished.
We again reached the fork in the highway and enjoyed more Triple Tea along with some favorite candies recommended by Carlos. Then, off to Puno.
Flamingos in the Andes? You bet! We stopped along a large brackish lake and there were dozens of pale pink flamingos feeding. What a surprise to see what I thought was a bird that favored lower altitudes and warmer climates, strolling about at over 11000 feet.
Later we drove through the city of Juliaca which we were told is one of the more prosperous cities in Peru. This is largely due to the thriving black market for goods smuggled in from Boliva as well as the booming counterfeit business. In fact, you can find just about any fake designer product here from purses to tennis shoes.
We finally arrived in Puno, a bustling town on the shores of Lake Titicaca. Aside from tourism, Puno is known for its parties. Whether marking religious or historical events , all require serious celebration, often lasting for days at a time. Well, why not!
By now, we had developed a serious craving for good old-fashioned pizza. Puno did not disappoint! After dinner, we crashed in the hotel and rested up for our day on Lake Titicaca.